How Sheffield United are supporting the LGBTQ+ community
Inside Sheffield United's approach to their LGBTQ+ supports' group, Rainbow Blades, and how the club have committed to the partnership.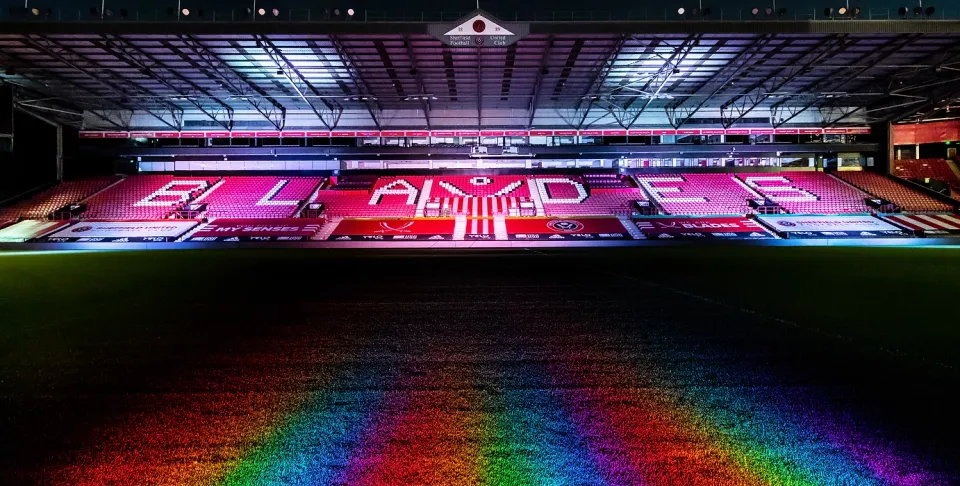 Football is a progressive sport, both on and off the pitch and making football grounds a more welcoming, inclusive environment for all fans is increasingly a priority for clubs at every level of the football pyramid.
I first attended a live match in 1996, a date which doesn't feel that distant but is actually more than quarter of a century ago (and, horrifyingly, in the last millennium). A lot has changed since then; transfer fees and wages have rocketed, knowledge of the impact of nutrition and fitness has increased, and on the field we've seen changes in technology pushing the game forwards. More widely there's growth within the women's game, evident through the success of the Women's Euros drawing record crowds and being screened live on primetime TV.
My own club, Sheffield United, are committed to making positive change within the community and to be a club united for all.
James Laley, founder and chair of the official Sheffield United LGBTQ+ supporters' group Rainbow Blades, started the group to fulfil a need. "At the time there were about 50 LGBTQ+ supporters' groups up and down the country at different football clubs, but not one at Sheffield United," says Laley, "As a Blade, and openly gay man, I wanted to do something about this and make a difference."
And Rainbow Blades has made a difference. Since the group's inception in the spring of 2020 more than 500 Sheffield United fans have signed up as members – an almost equal split of LGBTQ+ supporters and allies.
Laley puts this down to the commitment of the club to work in partnership with Rainbow Blades to make Bramall Lane a welcoming and inclusive space where everyone can be their authentic selves. "The club's response from the very start has been positive. They want Rainbow Blades to succeed as much as we do."
Campaigns backed by the club include Rainbow Laces, where professional films with the players on allyship have been produced and promoted, alongside players wearing Rainbow Blades warmup shirts and captain Billy Sharp sporting a rainbow captain's armband. They have also worked closely with the group to produce and launch the Rainbow Range, a selection of LGBTQ+ Sheffield United merchandise available through the club shop and online.
Rainbow Blades also have a regular column in both the men and women's matchday programmes, which not only increases visibility and awareness but also gives members the opportunity to write personal stories for the wider fan base to read.
Last November the club held the first ever Sheffield United LGBTQ+ Fan Forum for members of Rainbow Blades to put forward questions around equality, diversity and inclusion to the club. The event was attended by Rainbow Blades members and club staff including heads of departments, such as ticketing, marketing and media officers and Sheffield United's Chief Executive Officer Stephen Bettis.
"The owner, board and management are committed to furthering equality, diversity and inclusion at Sheffield United," Bettis says, "We have made significant progress over the last couple of years and seen positive changes at the club."
As the new season begins, Bettis is also keen to state the club will not be resting on their laurels on or off the pitch.
"Looking ahead to this season, we will continue promoting our commitment to equality and our zero-tolerance stance on all forms of discrimination. The industry has come a long way but, regrettably, we still see incidents of discrimination.
"We all have a role to play in making football more inclusive. It is not enough for us to be a football club that wins matches, we want to demonstrate excellence in all that we do, and this includes placing equality at the core of our values."
Bettis's view echoes around the club. Amy Hood is the Empower LGBT+ Coordinator at Sheffield United Community Foundation. Her role is to lead and implement the Empower LGBT+ Project, with the main aim of making Sport and Physical Activity inclusive for all and providing exclusive and inclusive LGBT+ sessions for young people aged 11-25 across the city.
"We work closely with Rainbow Blades and have an incredible working relationship," says Hood, "There is a cross-sectional approach to LGBT+ inclusion at Bramall Lane amongst Sheffield United fans, the club and Community Foundation, with making Bramall Lane safe and inclusive for all at the forefront of our minds."
Outreach work is a key part of Hood's role, so how have the Sheffield United Community Foundation sought to engage with the city's LGBTQ+ community?
"Some of the work we have undertaken through the project has included hosting a women and non-binary 5-a-side tournament, swimming sessions and training and workshops for Club and Foundation staff, as well as representation at LGBT+ events in the city."
The club's commitment to inclusivity goes beyond the LGBTQ+ community. Last season signalled the opening of a sensory room to give supporters with additional sensory needs the opportunity to enjoy the match day experience in a space specifically designed for them. As well as providing specialist equipment including bubble tubes, lights and a sensory den, the sensory room has a full view of the pitch with indoor and outdoor seating areas and attendees have the option of staying in the ground for 30 minutes after the final whistle to allow crowds to disperse.
Sheffield United have also committed to equality on the pitch, with the women's team playing all home matches at Bramall Lane during the 2022-23 season (having previously played their home fixtures at Chesterfield FC's Technique Stadium).
Hood sums it up perfectly: "We want to use the power of our football club and its badge for good and have the biggest impact we can on the community of Sheffield. We are more than football and together we can be football for all."