What national teams will be thinking about ahead of the World Cup 2022
Ten Toes' Tom Biggs outlines how teams will be planning their content ahead of this winter's World Cup.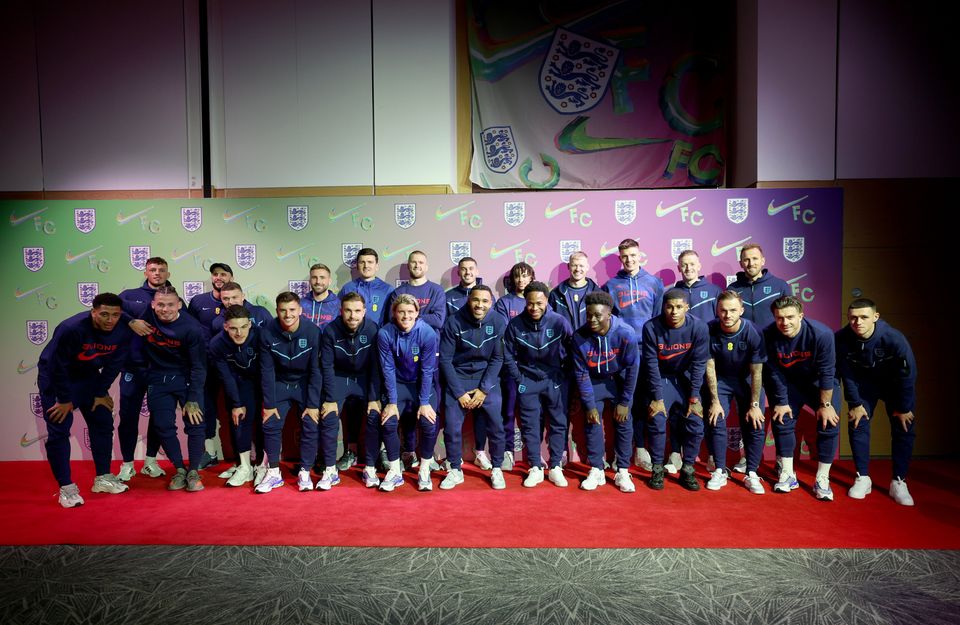 While the focus for many is on the current unrelenting domestic and European club schedule, the FIFA World Cup is getting ever closer, with the opening match under a week away.
Following three and a half years with the English FA, Tom Biggs recently joined Ten Toes as Lead Consultant. As the Football Business Awards' current agency of the year prepares to work with some of the biggest names heading to Qatar, Tom looks at how those behind the scenes will attempt to maximise the opportunities presented by the FIFA World Cup.
Standing out from the crowd
It'll be a unique tournament at a unique point in the year and it will have the world's attention, so how do participating nations cut through the noise and build genuine relationships with fans?
It all began last week, as nations revealed their teams for the tournament. Squad announcements provide a great opportunity for national sides to 'own' a reveal moment, but beyond that, it's also a chance to establish your narrative ahead of the tournament.
Having used powerful videos to reveal their last two squads, England opted for a slick animation this time around, while Uruguay's captured the imagination of people around the world as they visited the regions in which it all began for the 26 players chosen to represent them in Qatar.
A number of teams will also look to land a new visual identity for the tournament. While some may have revealed this when their new kits were worn for the first time back in September, others will be looking to make a splash in the days leading up to the tournament. From illustrations to video overlays, a strong brand can help teams stand out in the feed.`
Beyond visual identity, being a voice for your fans will be just as important. Text-only Tweets that convey football's raw emotion have become popular recently. If the team truly knows their audience, the impact of speaking the mind of every fan through the lens of the team account can be extremely powerful. Manchester United and England Women have done this extremely well of late.
Connecting with fans - wherever they are watching
While there will be an influx of fans heading to Qatar, the majority will be watching from back home. This makes building genuine connections with fans, whatever their location, vital.
In 2018, England introduced Lions' Den, a daily live show streamed directly from the team's hotel. The format allowed fans to speak directly to players while also showing how much the players appreciated their support. It gave a behind-the-scenes feel, bringing supporters inside the camp and to the heart of the team.
While some teams may not be in a position to produce a live show every day, even a quick question-and-answer session can really enhance the fans' experience and bring them closer to the players. Harnessing genuine interactions shows supporters how much the team values their support. Whether it's finding out where or who they are watching with or their thoughts after a big win, a reply to a fan from an official account goes a long way - community management will be so important this winter.
Supporting their players - and their fans
Unfortunately, abuse on social media is still rife and it peaks during high-profile tournaments. It is not something anyone should have to worry about or plan for.
On the back of research conducted into the two previous major tournaments, FIFA announced they would be launching a dedicated in-tournament moderation service that will scan recognised hate speech terms published to identified social media accounts, and once detected, prevent that comment from being seen by the recipient and their followers.
It can't be underestimated how important it is to ensure the 'experience' on national team and player accounts is a positive one. Fans coming to those pages want to engage with others, not read through spam or abuse or discriminatory posts. FIFA's service will undoubtedly aid this experience for everyone involved this winter.
Leveraging player personalities and their profiles
A major tournament is also an opportunity to show what happens off the pitch. There's a chance for teams to give a rarely-seen insight into the players' downtime as they relax and recover together. As well as this, informal interviews which show a real connection between the interviewer and player can have a big impact. Done well, these can make a short comment on a previous match or moment infinitely more engaging.
It's not just teams that can show the personality of the players. Who better to do that than the players themselves? Ensuring access to good content, such as behind-the-scenes photos and videos, will allow players to show their pride at representing their nation. With huge reach, players can help national teams engage fans they don't have access to via their own following. During EURO 2020, Harry Maguire posted a video of Bukayo Saka trying out some golf in his downtime – the video went viral and had Saka talking about his golf exploits in an interview a few days later. Teams should harness these moments, sharing on their channels, but also referencing them when they do have time with the players later down the line.
Finally, complementing strong content with a strong syndication strategy to clubs and third parties will see team content shared far and wide during the height of interest for international football. Services like Socialie allow teams to seamlessly share their content with publishers – including their players – and retain visibility of how it performs, allowing them to demonstrate a return on any investment needed to expand your distribution network.
Maximising on the pitch moments - with rights restrictions
Magic moments on the pitch are always a key part of a content team's strategy. Phone-captured pitchside footage is now providing some of the best social video for clubs, but teams in Qatar won't have that luxury due to rights restrictions, so it will be interesting to see how they celebrate on-pitch moments.
Strong photography, on and off the pitch, will be key. Another important driver for celebrating on-field moments will be the team's relationship with their host broadcaster(s). Using social channels' in-built crossposting and collaboration functions will give nations the chance to promote their host broadcasters and bring on-pitch moments to their followers in a rights-compliant way.
We'd expect to see nations showing how their fans are celebrating too. We've all seen the fan park videos of drinks flying everywhere as fans celebrate. These moments capture the emotion and resonate with all parties.
Finally, we've started to see clubs embrace BeReal - with Southampton recently becoming the first Premier League club to officially join the app. With such great access to their players during the tournament, it'll be interesting to see if BeReal is used by teams to give fans another little insight into life on camp.
For the years between tournaments, national teams play second fiddle to club fandom. Major finals offer the chance for international football to truly take centre stage and capture the attention of fans around the world. The work social media teams do before, during and immediately after this World Cup can set them up for success for the two-year period that follows.
---
If you'd like to find out more about Ten Toes and their work, you can contact Tom at tom@tentoesmedia.com. You can also follow Ten Toes on Twitter, Instagram and LinkedIn.