Dorking Wanderers and Bunch of Amateurs: How YouTube and TikTok brought a new audience to a non-league club on the up
Sean Dudley explores how TikTok and YouTube can play a part in expanding audiences and - crucially - attendances at non-league level.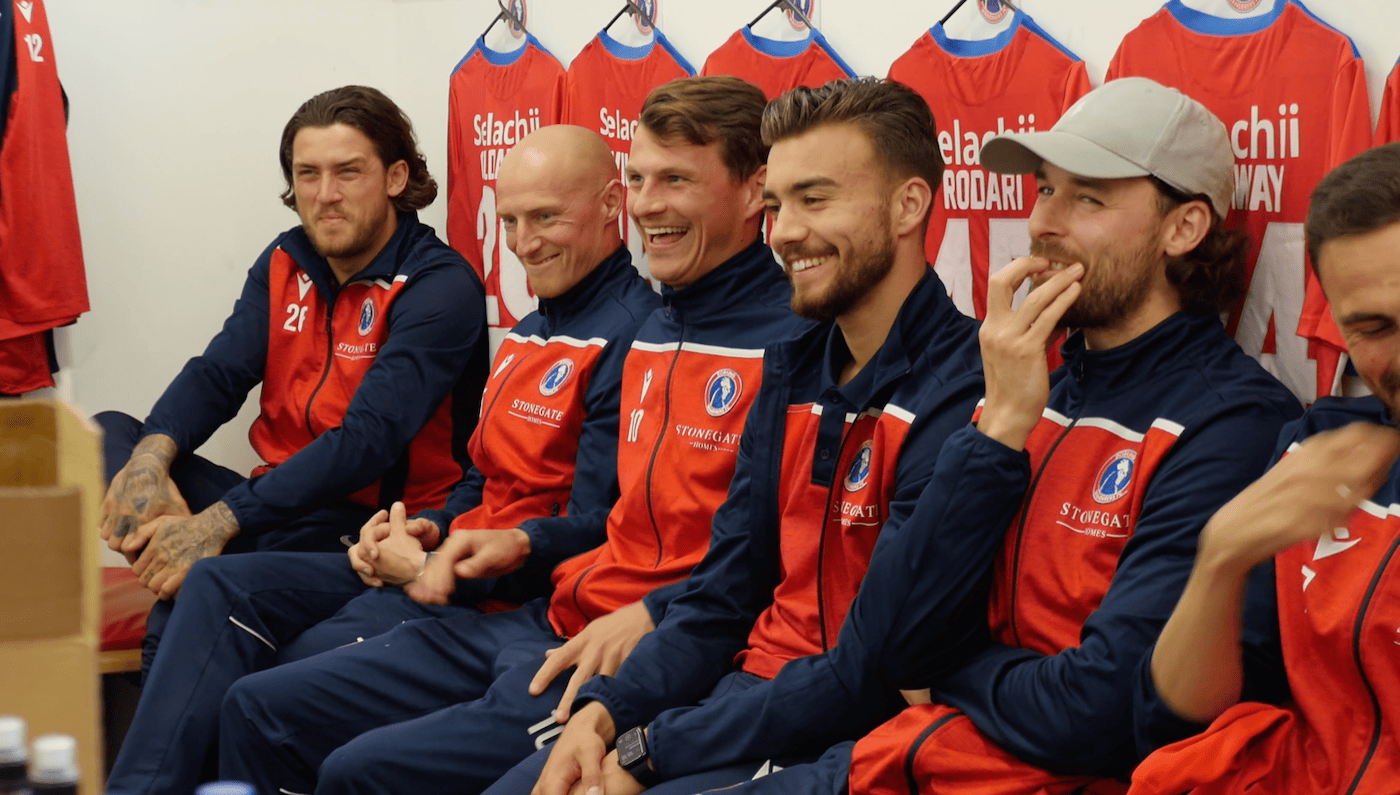 "I just want to say here, the support through what you've done and what you guys have done, the support online, the players see that. They resonate with it, and it's been brilliant. What you've showcased is real ******* football. Real football, by a real club, that give a ****."
Emotions were running high when Marc White said the above. A founding member and the current manager of Dorking Wanderers F.C., White had just seen his team win the National League South Play-Off Final. Wanderers scored a last minute equaliser in normal time against Ebbsfleet United, and then grabbed a winner in extra time. That saw Dorking Wanderers, a club only founded by White and four others in 1999, promoted to the National League – the highest level of English non-league football – for the first time.
This soliloquy of sorts was directed at the crew of Bunch of Amateurs, a YouTube and TikTok channel led by Rich Phippen of MSF Productions. After years working behind the scenes in the world of television, Rich started playing around with the idea of making a documentary about amateur football. He started recording games at Charlwood F.C. in Surrey, before a conversation with his barber saw him introduced to Marc White.
That was in January 2019, when Dorking Wanderers were in the Isthmian League Premier Division and Bunch of Amateurs was in its embryonic stages.

Fast forward to September 2022, and Wanderers are two divisions higher, while Bunch of Amateurs has 43.9K subscribers on YouTube, an astonishing 222.3K followers on TikTok, and no fewer than 9.1 million likes on this platform. It's little wonder Rich now gets two or three requests a week from other clubs around the country to come and do a series on them.
"I wasn't overly keen on TikTok initially, but Charlwood's manager Peter Barkley convinced me to try it, and TikTok really blew it up," Rich told me. "That growth was reflected on the YouTube channel. I should say though that I don't class Bunch of Amateurs as a YouTube channel in the traditional sense, because I don't do stuff to suit the algorithm or name the videos things like 'You won't believe what happened at the end of this match!'.
"I have a vision for what I want each episode to be, and YouTube is the platform on which I show that to people. I want people to watch the videos, but I'm not going to change the show as I envisage it in order to do that."
Once you get the bug, each Bunch of Amateurs episode feels like you're settling in to watch one of your favourite TV shows. The content is very easy to engage with, due in part to the magnetism of the Dorking Wanderers management team and players, and in part to the quality of the production.

"I needed to work out a way to cover everything with limited people on the ground, and the answer was GoPros," explains Rich. "It started with one GoPro in the changing room and one in each goal, and now it's two in the changing room, two in each goal and I've got two spare that I can play around with. We've got seven lockoff cameras now, so as long as people are wearing our little microphone packs, I can sync up the audio and pick up pretty much everything they do."
The basic formula Bunch of Amateurs adopts is a now familiar one – a behind-closed-doors look at how a team works, the characters that comprise it, the dynamics at play, and the strengths and fragilities that sport brings to the fore.

This genre has blossomed in the age of streaming platforms, with standout examples in the football world including Amazon's All or Nothing series, and Netflix's Sunderland Till I Die. Crystal Palace's recent Where Eagles Dare series has taken the genre in a new direction, highlighting the club's history.

But Bunch of Amateurs is a little different to any of the aforementioned. It unflinchingly covers non-league football in all its glory, showcasing a world where passion and pride outweigh financial clout.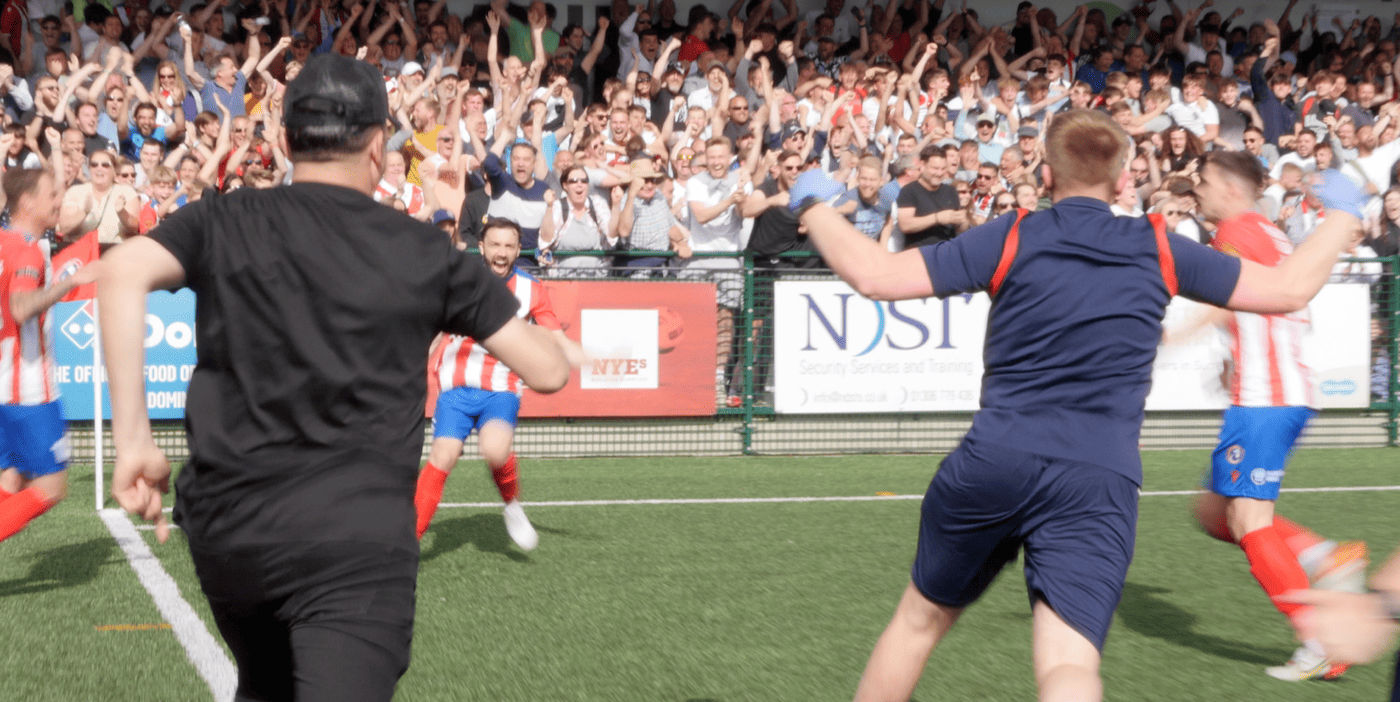 "I think Bunch of Amateurs has given a refreshing inside view of real football as people know it," Marc White told me. "In a TV sport era, it has given the opportunity for people to see the passion that is there behind the scenes. We have given Rich and his team complete access to the club, and I think that candidness is really attractive."

From a footballing perspective, Bunch of Amateurs beautifully exhibits the meticulous nature of White's management style and ethos. Any misconceptions about non-league football being ragtag, disorganised and, well, amateurish, are quickly put to bed.

There's an accessibility to what White is trying to do with Dorking Wanderers. His charisma and the players' commitment to the cause, when combined with the inevitable ups and downs of football at any level, makes for truly engaging watching.
Additionally, any regular watcher of Bunch of Amateurs will attest to the fact that Rich's voiceovers add a distinctive element to the episodes. They are adventurous, entertaining and witty in equal measure.

"Since I was at school, I've been told I've got a voice for radio and never used it," Rich said. "It's something I was tempted by when working in TV, but I was told voiceover work is super competitive and that kind of put me off. When I first started playing around with Bunch of Amateurs, I actually didn't have a voiceover and was keen on using the footage to tell the story. But the storytelling just wasn't there, so the chance to give my voiceover skills a go appeared.
"When I started, I tried to channel Tom Hardy and his voiceover for the Spurs All or Nothing series, but I thankfully got out of that and just started to embrace my own voice. That was really liberating actually and the feedback has been shockingly positive."

Since Bunch of Amateurs started following the club, there has been a literal doubling of the crowds that Dorking Wanderers have welcomed through its gates.

"We've had people fly down from Scotland for matches," White says. "One bloke came over from America. It's just crazy. That's just the physical crowds. And we've doubled all social media following too and seen huge growth. It's just phenomenal for us."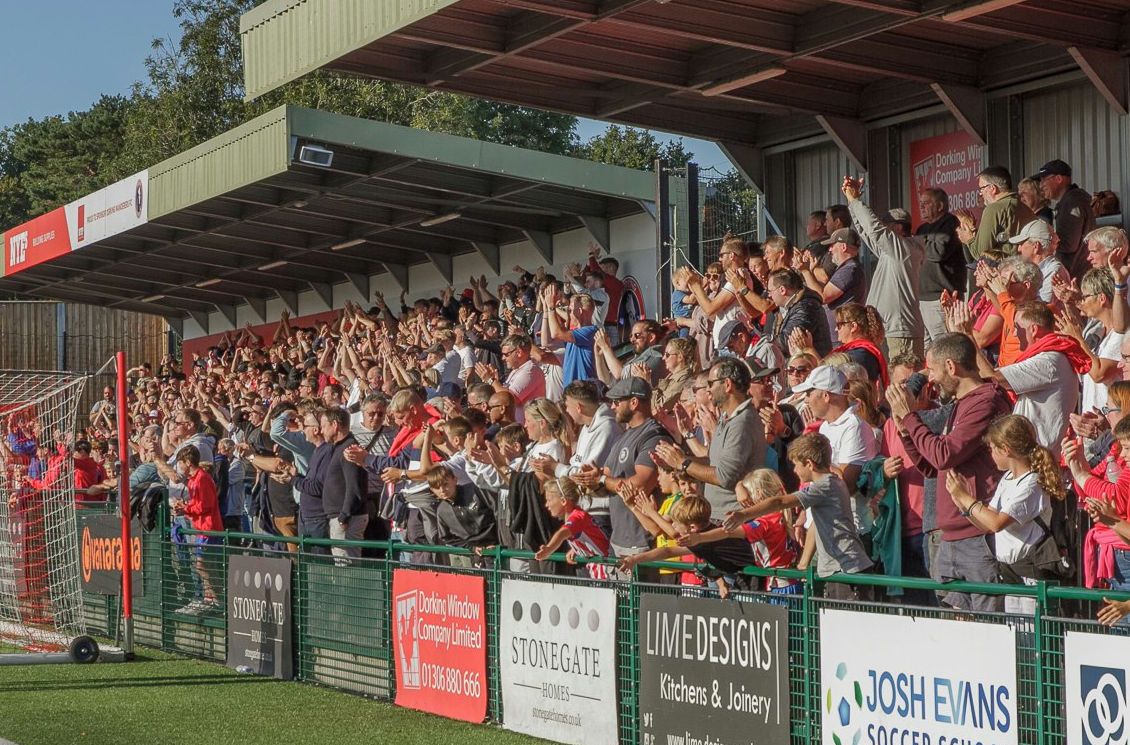 Speaking as a fan of a club who will be playing in the National League alongside Dorking Wanderers in 2022-23, one notable change at this level over the course of the past decade is how much more professional things are, and how much higher the standard is.

With the likes of former Premier League club Oldham Athletic, Hollywood-bankrolled Wrexham, and many more former football league clubs making the trip to Dorking's Meadowbank ground this season, the insight Bunch of Amateurs provides attests to the fact that football is not about legacy and a divine right to be at a certain level any more.

The series offers a perfect lens into a club that consistently achieves more than the sum of its parts thanks to an excellent ethos, high levels of aptitude and phenomenal application. Add to this the literal benefits the Bunch of Amateurs series has brought to Dorking Wanderers as a club, and it's a win-win for White.
"I think with us now being in the National League, there's a chance for fans of other clubs to watch Bunch of Amateurs and see how things really work," White says. "You see that slight challenge to the typical narrative. For example, I'm in the luxurious position of calling the FA ******* if I want to, and there's nobody telling me to stop because I own the club! It really gives you that unique side of things, and I think that's a big part of its success."
Rich and his team will be following Marc and Dorking Wanderers during their inaugural National League campaign, so we will have to see if the FA do indeed get called ******* or not. Time will tell, but this visual chronicle of a club on the up is undoubtedly contributing to something special.