Forward Madison: Using football kits to grow a new brand and community
Forward Madison's kits are worn around the world. So how does a third-tier club compete with bigger clubs when it comes to designing and selling matchwear?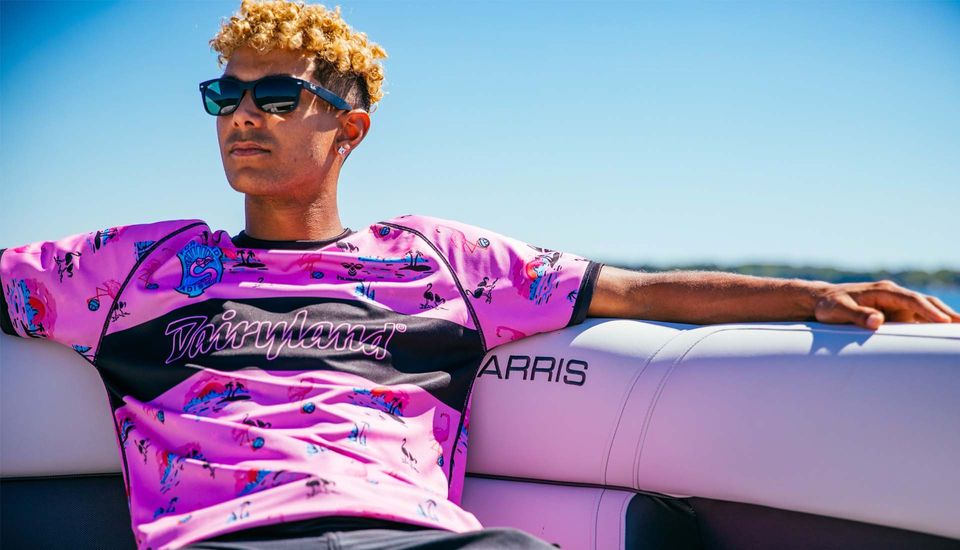 Having previously been solely the preserve of the hardcore football fan, over the past few years football kits have entered mainstream pop culture. From Drake being snapped in a pink Juventus strip to Pharrell Williams designing strips for some of Europe's leading clubs, football kits are now cool.
Clubs and brands increasingly recognise the value of their matchwear not only as a way for fans to display their loyalty, but as a powerful marketing tool to attract new supporters. A leading example of this approach is US third-tier side Forward Madison, whose innovative kit designs and promotion have given them a reach far beyond their Wisconsin home.
The club were founded in 2018 by Peter Wilt, using his experience in establishing football franchises including MLS club Chicago Fire to build the first professional football club in his home state. With Wilt known for his fan-friendly approach, the club have had fan input and local culture embedded into their DNA from the earliest stages. Members of the club's burgeoning supporter group 'The Flock' were invited to input to strategy meetings during early brand building, whilst the team's name was decided by an online voting contest based on the state's motto 'Forward'.
Like many modern US clubs, Forward Madison did not attempt to emulate European football club culture but instead strived for a distinctive identity of their own. The club's flamingo logo dates back to a 1979 student prank at the city's university involving 1,000 plastic birds, while their unique palette of pink, light blue, navy blue, and white would soon become a calling card of their kits.
From the start, Forward Madison's kits were designed with purpose and passion by a team led by designer Cassidy Sepnieski. As Evan Warwick, Forward Madison's Director of Digital Content told me, "We always try to aim for a bigger goal with our kits – not to just have a kit for the sake of having one. A kit for a cause, or a design reason behind the kit".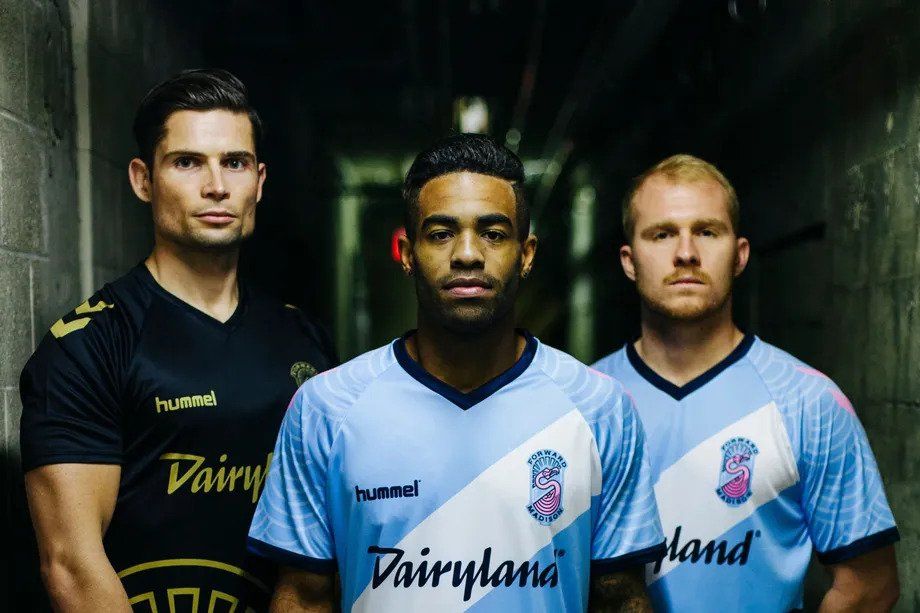 The inaugural 2019 season home strip – pale blue with a white sash - was based on the city's flag and reflects the city's location on an isthmus between two lakes. Paired with a matching white/pink away and feather-patterned pink third strip, the trio were bold, distinctive and an instant hit. The third strip received over 200,000 votes en route to being named leading satellite radio channel SiriusXM FC's Kit of the Year for 2019. Foreshadowing a theme of financial success, Forward Madison's 2019 income from kit sales was more than twice that of their USL League One rivals combined.
Bands speak of the 'difficult second album', and so it was that the club faced the prospect of emulating their opening season success in a Covid-hit 2020. The highlight of another successful batch of kits was the 'Drip' third kit, created by swirling paint into water in the designer's kitchen sink. The aim was something "that's cooler, more street-culture than what we did in the past" according to Sepnieski.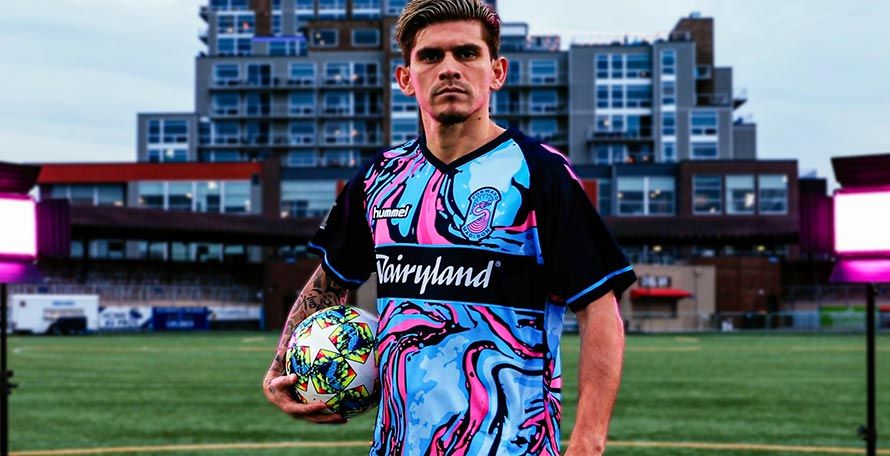 The impact was almost instant, as Evan describes "after one or two days we knew something special was happening as our social channels went crazy; The Athletic even did a feature on us". Interest grew even more from the strong start made in 2019, with the strips being particularly popular in the UK. This led to a partnership with the world's largest vintage football shirt retailer Classic Football Shirts which would drive sales in that market and further afield.
Forward's innovative approach to kit design continued into 2021, in one case borne of the design team's productivity. The club had seven strong designs and only six shirts available: home, away and third for both outfield players and goalkeepers.
"We had two really solid designs that we wanted to use for the third kit, so the natural conclusion was to put them together", Sepnieski revealed, "With the hot pink, we wanted to bring our look and identity into more of a streetwear type of realm. The beach side was born out of vignettes of summertime in Madison". Thus was born the first reversible shirt used in a US soccer match, with the team switching to the reverse side at half-time in their mid-season match against Greenville Triumph SC. The shirt featured Forward's ever-present sponsors, local automotive insurance company Dairyland and Madison's Just Coffee Cooperative. The unorthodox kit designs were adopted as readily by non-football fans as those deeply immersed in the game. "The shock value of the kit really hit with people", says Evan, "It's the coolest thing seeing our kits go beyond soccer and into fashion".
Despite being a third-tier team, Forward shirts have outsold those of a number of top-flight MLS teams each season since 2019. This has contributed to the massive growth in the club's budget, which has more than doubled since their inaugural season. In addition to this direct contribution, the increase in profile brought about by the success of Forward's kits has impacts on and off the pitch.
"From a footballing perspective we're a third division club but able to attract players with MLS or international experience," says Warwick, "For example, recent signing Alvin Jones scored the goal which knocked the US out of World Cup qualification in 2018. We're able to field a better team on the pitch because people have heard of us, largely through the success of our kits". The benefits extend to their profile off the field, as "on a sponsor and partnership level it allows potential partners to see that we're ambitious and building a profile beyond local recognition, that we're a trustworthy brand that's progressive and driving change".
In keeping with the ethos of the club, Forward aim to use kits for a purpose beyond financial gain or increased profile. After the pandemic the club saw US-based fans starting to reconnect at matches and wanted to make their international fans feel the same connection, so they launched the 'Friends with Benefits' kit. The kit featured a checkered design with varying fade panels in the club's palette, and a QR code printed on the back. When scanned, the code allowed the individual to purchase a beer for fans attending Forward matches at home ground Breese Stevens Field thereby connecting the disparate parts of the global Forward supporter community. To launch the kit, Evan and Cassidy attended an event at Classic Football Shirts's flagship London store, building upon the strong UK sales record for the club's strips. In another nod to bringing fans back together, the club's home strip recreated the successful 2019 effort. "It's an homage to Madison," says Cassidy, "Last year we didn't get to play at home, so this is part of the way we welcomed fans back home".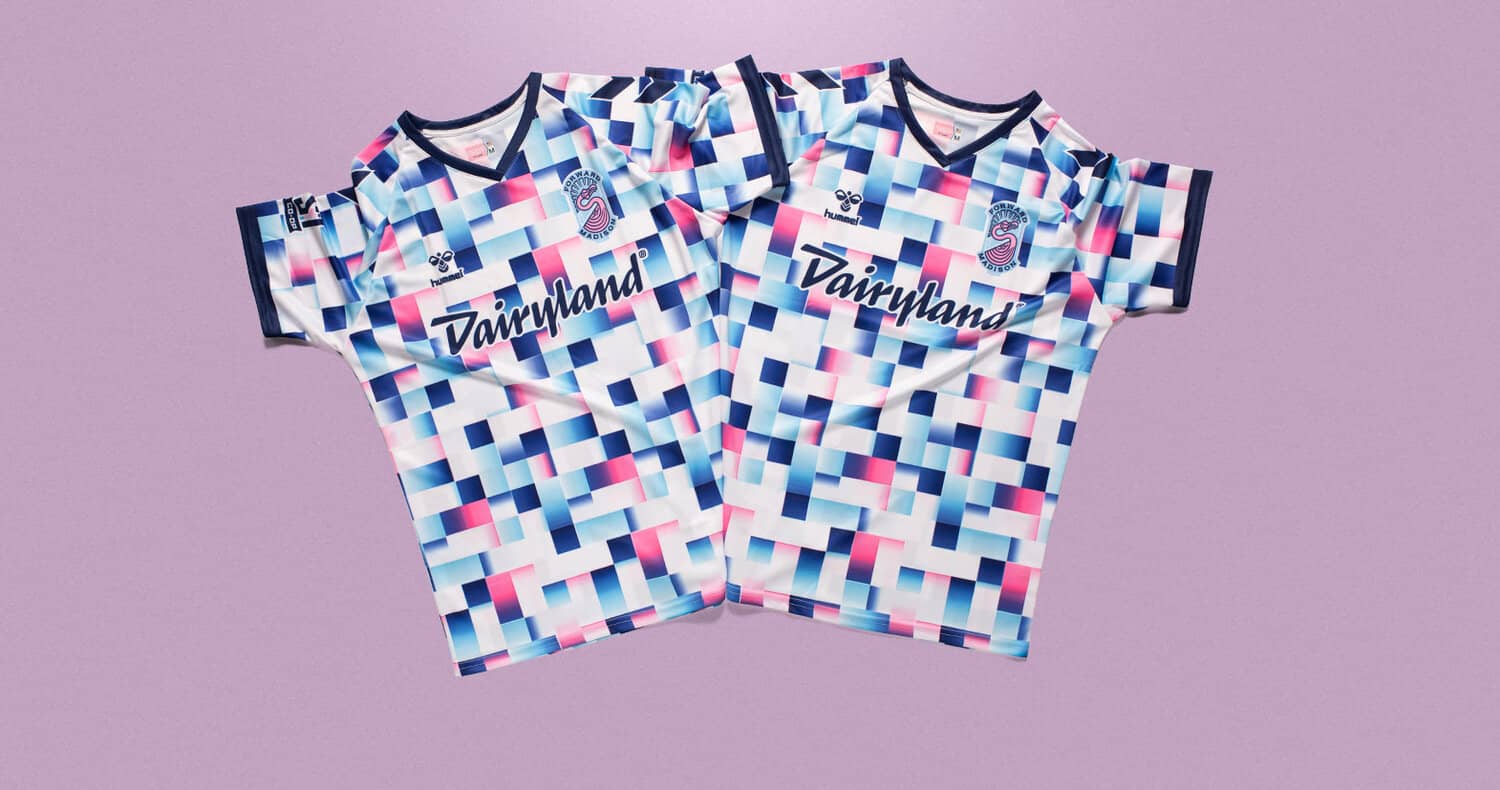 The club have recently gone beyond their usual reach, in pivoting their jerseys' popularity to benefit a notable cause. In response to the ongoing crisis in Ukraine, the club have released a yellow and blue version of their familiar sash design. All proceeds from the kit sale will be donated to UNICEF's Ukrainian relief effort appeal, and the kit was worn in the club's season opener on 9 April against Union Omaha. The matchworn shirts were also auctioned off online, raising nearly $6,000 in additional proceeds.
As Warwick says: "As a club we're consistently striving to make a positive change. We wanted to make a kit that benefits the world, and offer financial help in the best way we can".