Inside Borussia Dortmund's march to 1m Instagram followers in 10 months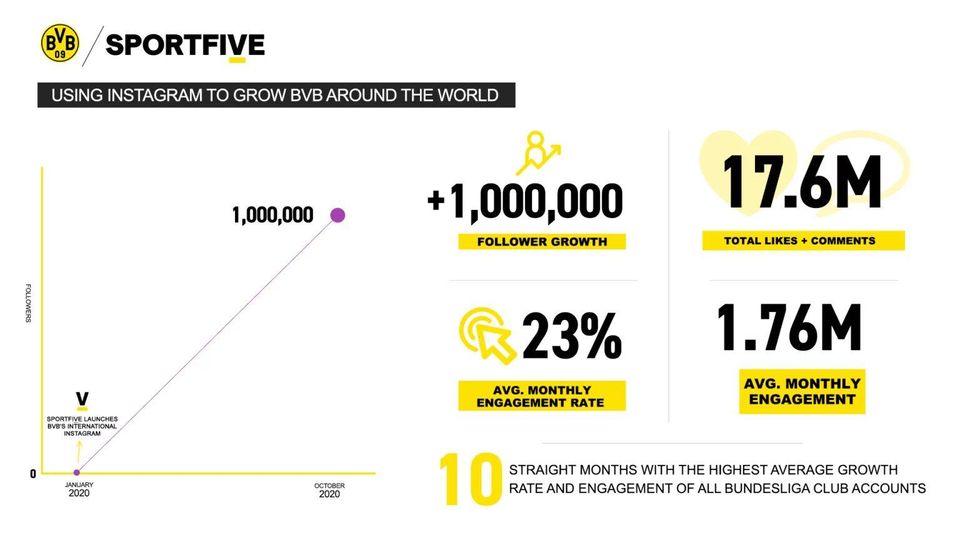 Growing the following of a social media account is one of the main tasks facing many marketers in sport. For some teams, it's the main thing they're judged against.
These days, there aren't too many teams that start with a social following of precisely 0. And even fewer clubs are part of Europe's elite.
The team at SPORTFIVE were given the task of creating Borussia Dortmund's English language account on Instagram in January 2020. As of October they've passed 1m followers, generated 17.6m likes and comments, and achieved an average monthly engagement rate of 23%.
For 10 straight months – the entirety of its existence – the account has had the highest average growth rate and engagement all Bundesliga club accounts. This means they're even outperforming accounts in the league's native German language.
Zane Wasp, from SPORTFIVE U.S, has shared BVB and SPORTFIVE's combined strategy and helped answer that big question: how exactly do you grow a brand new account in 2020?
Paid media
"At the onset of the account's creation we needed to focus on getting as many eyes as possible on our content. Unlike Twitter, you don't have the luxury of RTs and other sharing mechanisms.
"To counter this, we used a steady budget of paid media to amplify our content in specific geographies we wanted to target and grow our audience in."
To celebrate Gio Reyna becoming the youngest American to score and assist in a Champions League game the team amplified the post with some paid spend.
Use of players
Clubs have long used the pulling power of the individual players to boost their own following. Zane and the team's approach was to turn them into pop-culture references, knowing fans would react to artwork featuring their favourite players.
"Knowing that our players hold the most power in terms of sharing content, we make an extended effort to create content that encourages them to share and engage with as much as possible.
"Whether it's creative graphic work with pop-culture references that feature the players – La Casa De Papel, Terminator with Erling Haaland, Grand Theft Auto – or content that applauds and appreciates their legacy and achievements, we make sure to always keep them in mind, because fans are attracted to the hero."
First to new features
This year has seen Reels and Shopping gain more prominent placement in Instagram accounts. Reels, in particular, was embraced by clubs due to its similarity to TikTok. Given the crossover between the two, it was straightforward enough to re-use content for the new platform. Something the team has utilised to good effect.
"When Instagram releases a new feature, we make sure we are one of the first teams and accounts to utilise it in a creative way with engagement and monetisation in mind.
"In the early days of Reels, it was important to post content that would stick out from the rest with everyone rushing to the new video format. That said, we looked at what video content had previously performed best on Twitter and TikTok, and then formatted it for Reels, resulting in three of the account's five top liked and viewed posts: Bürki's pre-match ritual, Reus x Piszczek Behind-the-Scenes, Reus Jersey."
They have also adopted Instagram Shopping:
"Although Instagram Shopping isn't a 'new' feature per se, we wanted to be as effective as possible by using it to monetise our growing audience non-overtly while still engaging them.
"To do so, we implemented the #FanShopFriday series, highlighting out-of-the-ordinary and non-traditional items that fans may not have known were available for purchase."
BVB's 10-point @BlackYellow Instagram strategy
Culturally relevant content going beyond soccer.
Geographically targeted paid media campaigns.
Visually captivating graphic design.
Quick and bold decision making when addressing trending topics with an emphasis on being the first account/club/team to speak to it.
Engagement driven giveaway campaigns aimed at giving back to the fans and building a larger audience.
Creating content that is relevant and interesting to the club's players to re-share with their large individual audiences.
Focused use of Instagram's new features.
Local and global influencer campaigns to target new and existing demographics.
Geographically targeted creative content that caters to different countries, religions, ethnicities, and cultures.
Going beyond covering American "hours" to make sure the account truly caters to the club's international audience with around the clock coverage.
Takeaways
Hitting the 1m follower milestone is an impressive feat for the first 10 months of an account, regardless of the size of the club you're helping promote. The content still needs to be relevant, and focus still needs to be put in the right areas.
What's interesting in this approach is the inclusion of paid media into the mix as well. For a new account that's often one of the most consistent ways to get your message and content in front of many new people as possible.
The pulling power of players can't be underestimated too, which applies to clubs at all levels. Fans identify with, and react to, their favourite players. Using these as much as possible, and getting involved in the memes and in-jokes involving them, is crucial to creating an engagement timeline.