"Social media exploded": how Dinamo Zagreb maximised the marketing impact of a giant-killing
The marketing department might not be responsible for what happens on the pitch, but when Dinamo Zagreb beat Spurs the team needed to be ready to make the most of their new-found attention.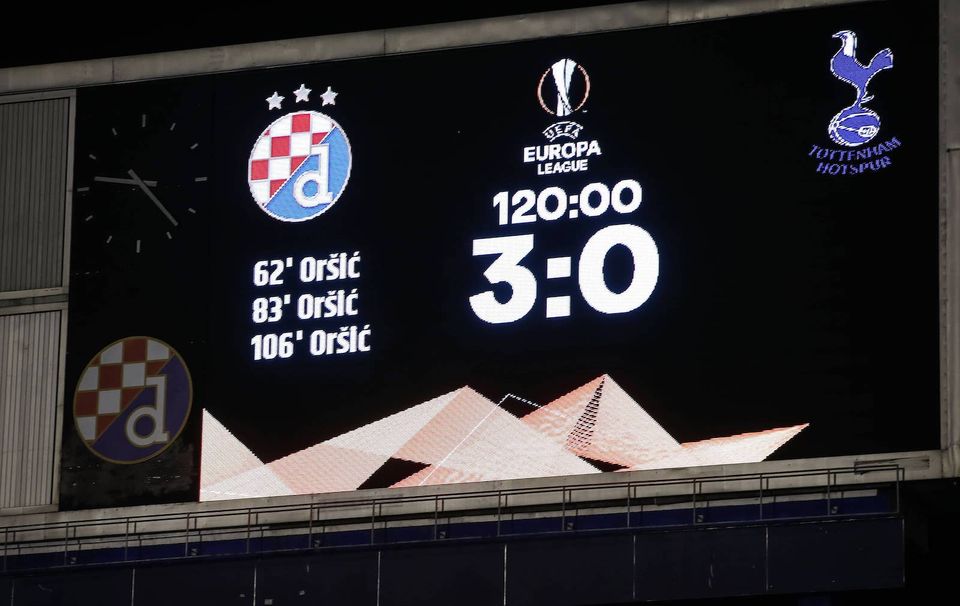 The final whistle sounds and Mislav Orsic runs. It's fitting: he's run Spurs ragged all night. But rather than bearing down on Hugo Lloris' goal, a net he has found three times in a little over forty minutes, he's sprinting towards his team's dugout, arms aloft. Orsic and his Dinamo Zagreb teammates have recovered from two goals down to dump Jose Mourinho's Tottenham out of the Europa League. It's the moment that every Dinamo player has dreamt about. It's also a cause of celebration for two of the club's backroom staff members.
"Social media exploded in the moments after the final whistle", says Iva Cigrovskij, Dinamo's Head of Public Relations.
Cigrovskij, together with Matej Zadro, the club's Digital Media Manager, is responsible for the current Croatian champion's digital marketing operation.
The pair are well-versed in dealing with significant interest in Dinamo's exploits, leading efforts to engage the club's 950,000 online followers and subscribers. However, even they were taken aback by the scale of the international attention generated by Orsic and his teammates, in the aftermath of March's historic win.
"We received support from neutral football fans all around the world, who were just happy that we beat Tottenham", explains Cigrovskij.
"The interest was on a different level", says Zadro. "We attracted fans and supporters from other countries and clubs, thousands of new followers, and all of that generated an increase in followers, reach and visibility."
According to statistics taken from SocialBlade, Dinamo's weekly increase in Twitter followers during the week of the tie against Tottenham was 550% higher than average, rising from 176 followers gained per week to 1,144. Measurements taken by the club's marketing systems suggest the spike across other social media channels was even more pronounced.
"We use Facebook, Instagram and YouTube and our internal statistics showed a rise in the number of followers during the Europa League games against Tottenham, with an increase of 600% at some points, when factoring in likes and reach", says Zadro.
Whilst the frenzied online interest in Dinamo's performance was driven by Orsic's heroics, Cigrovskij and Zadro employed marketing tactics designed specifically to capitalise on the organic surge in traffic.
The duo live streamed the post-match press conference and interviews with players, as well as publicising celebrations led by Dinamo supporters based just outside Stadion Maksimir, the club's home ground.
Footage from Dinamo's dressing room, showing Jose Mourinho congratulating Spurs' opponents, was re-posted by football marketing agency 433, which boasts over 44m followers across its social media accounts.
Jose Mourinho walked into Dinamo Zagreb's dressing room to congratulate them 👏

(via @PeytonCity)pic.twitter.com/YyKzwm8uJr

— ESPN FC (@ESPNFC) March 18, 2021
Facebook, Instagram and YouTube proved particularly effective channels for Zadro and Cigrovskij, who say Twitter is generally viewed as a "media communication tool for professionals and small interest groups" in Croatia. Dinamo consequently limit the scope of tweets to match updates and official club announcements.
The tactics used after the Spurs match are drawn from a carefully orchestrated digital marketing strategy, which steers clear of focusing on traditional KPIs.
"As a club we have focused more on reach and engagement on those platforms, rather than investing time in specialised campaigns aimed at generating page likes," explains Zadro, who is responsible for managing Dinamo's Facebook and YouTube profiles.
"We have experimented a lot and we think that the quality and delivery of messages means a lot more than the number of page likes."
The deliberate nature of the post-match social media activity, which also involved former Dinamo players such as Luka Modric (and his 19.7million Instagram followers), was complemented by careful pre-game preparations.
With Covid-enforced restrictions preventing Dinamo fans from watching the match inside the club's stadium, Cigrovskij and Zadro encouraged supporters to go online and wish players well prior to the tie.
"All of our players are active on social media, especially Instagram, so we wanted to create an atmosphere that provided extra motivation and showed them that they had huge support ahead of the game", says Cigrovskij, who looks after Dinamo's Instagram and Twitter channels, as well as the club's official website.
"We asked supporters to write their support messages for players, building their motivation through highlights of our previous Europa League wins."
Maintaining the marketing momentum built-up in the wake of the Spurs match will be difficult: Zadro admits that he and Cigrovskij "face a challenge to translate the interest from European competition to the Croatian league and cup."
Possible solutions are at hand. Zadro points to live broadcasting of matches, e-commerce and closer sponsor-supporter relationships as just three marketing tools which could enable Dinamo to continue growing online engagement.
The comments illustrate the domination of digital communication between clubs and fans: in a recent Deloitte survey, supporters indicated that social media will be the main way they interact with their team in future, with 49% of those polled doing exactly that since the outbreak of Covid.
In April, Dinamo announced plans to construct a new 34,000-seat stadium, which will house extensive hospitality and commercial facilities, a media complex, club museum and store. Zadro believes that replacing the Stadion Maksimir, which first opened in 1912 and was badly damaged by an earthquake in 2020, will remove another 'obstacle' in creating a compelling experience for fans watching home matches online.
Dinamo have made a slow start to the 2021-22 season on the pitch, taking just four points from their first three Croatian league fixtures, but their off-field marketing efforts seem in safe hands. The Orsic-inspired 'social media explosion' might be over, but for Cigrovskij and Zadro, the task of maximising the aftermath of last season's giant-killing continues.