The State of Football Social Media 2021: The Results
The results for this year's State of Football Social Media report are in. Take a look at how clubs are using social all around the world.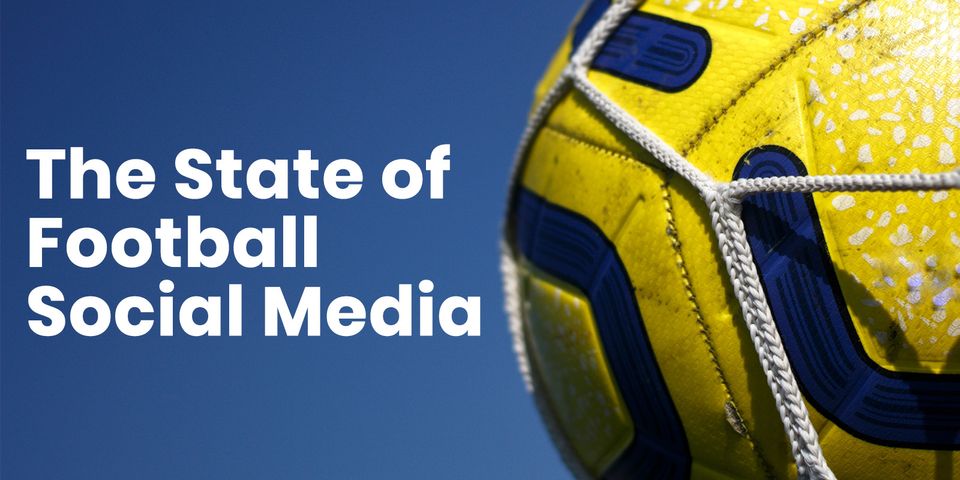 The results from this year's State of Football Social Media survey are in. Thanks to the 94 respondents who took the time to complete the survey. This is double what we had last time, which itself was double the number from the year before. I'm not 100% sure, but I think it's the biggest survey of football social media staff in the world. If it's not I'm going to claim it is until someone tells me otherwise.
This year, respondents came from 17 different countries, with staff who work in amateur football all the way up to their country's top division.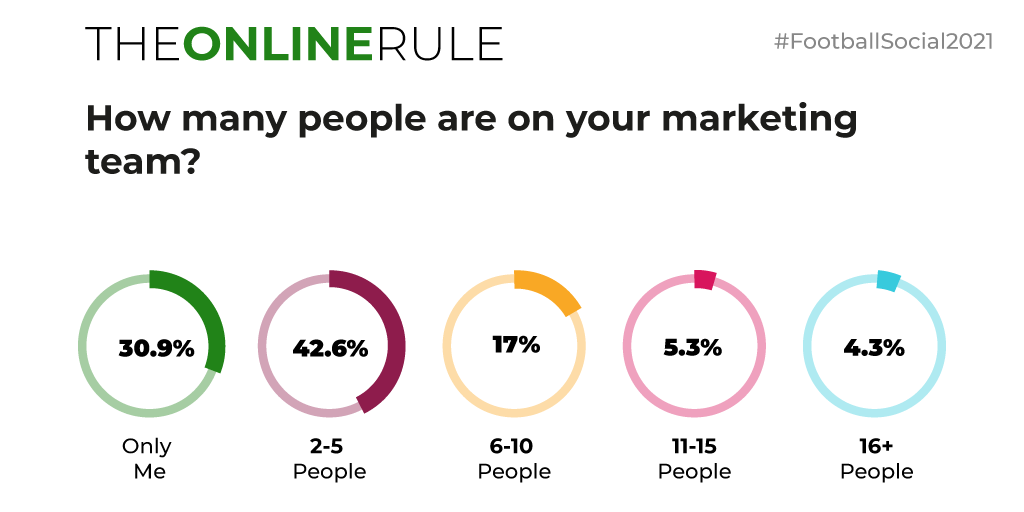 As you can see, football marketing teams remain small. 74% of respondents work in a team containing five people or fewer. Given the amount of content it's expected for teams to push out on a daily basis, this shows how versatile and talented staff are.
The results
First things first, where are football teams spending their time online?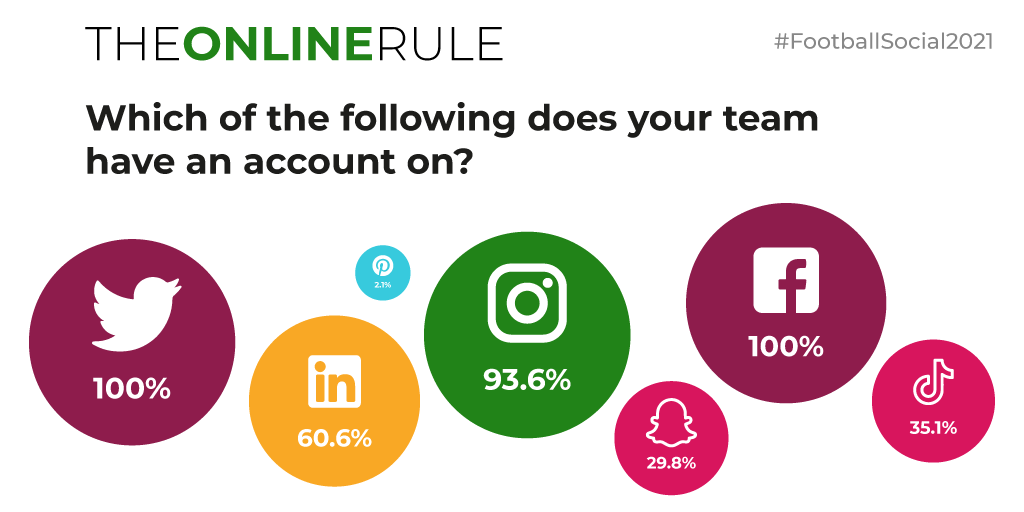 Facebook and Twitter came out in front here, unsurprisingly, with Instagram close behind. LinkedIn pops up surprisingly high, and TikTok is more widely used than Snapchat. Pinterest is just about hanging in there with 2.1%.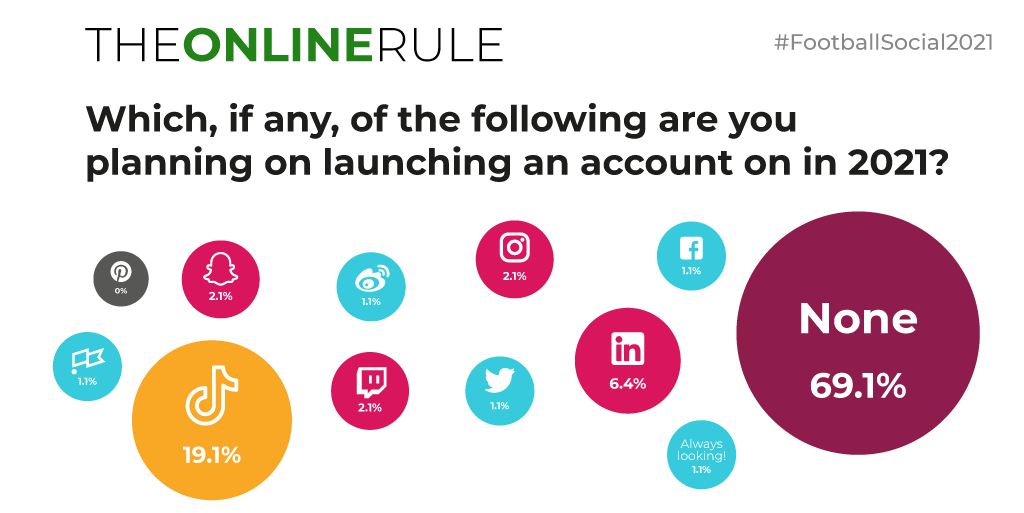 69.1% of respondents looked at this question and figured they had enough to manage. TikTok is the highest actual network, with nearly a fifth of teams eyeing it up as a new platform for 2021.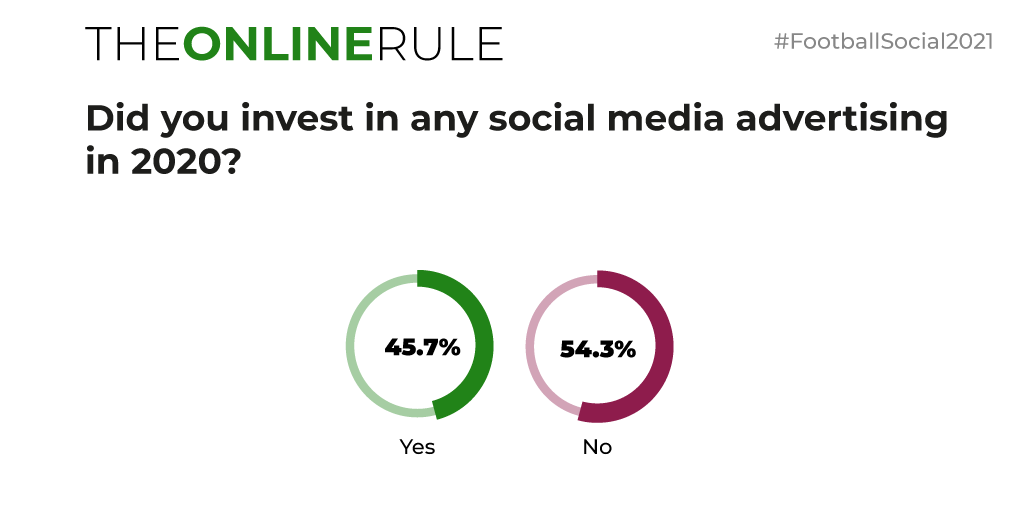 Clubs are notoriously difficult to pin down when it comes to discussing their paid social efforts. And there's a wider issue in the industry of thinking of ads as a dirty world.
But, given the fact nearly 46% of clubs invested in social media advertising last year, it's clearly an area they're taking seriously.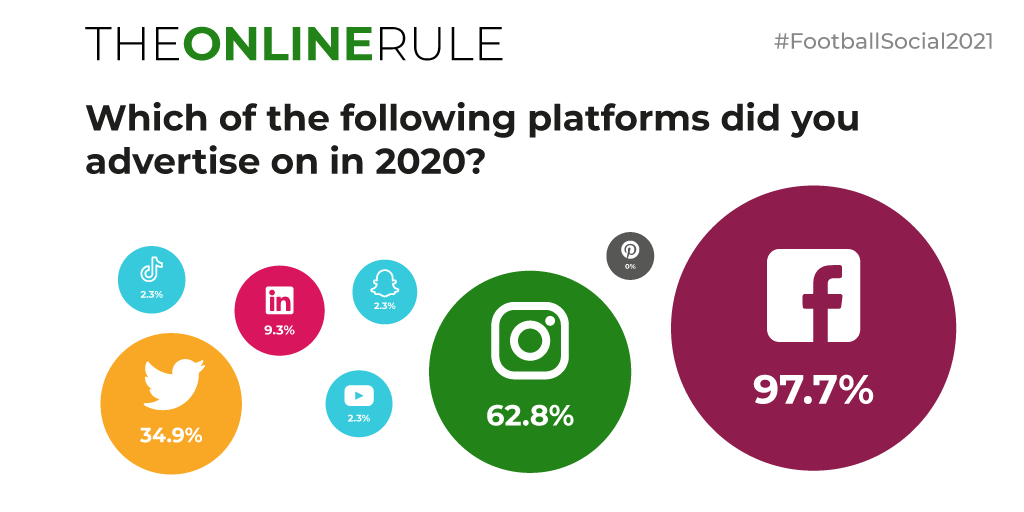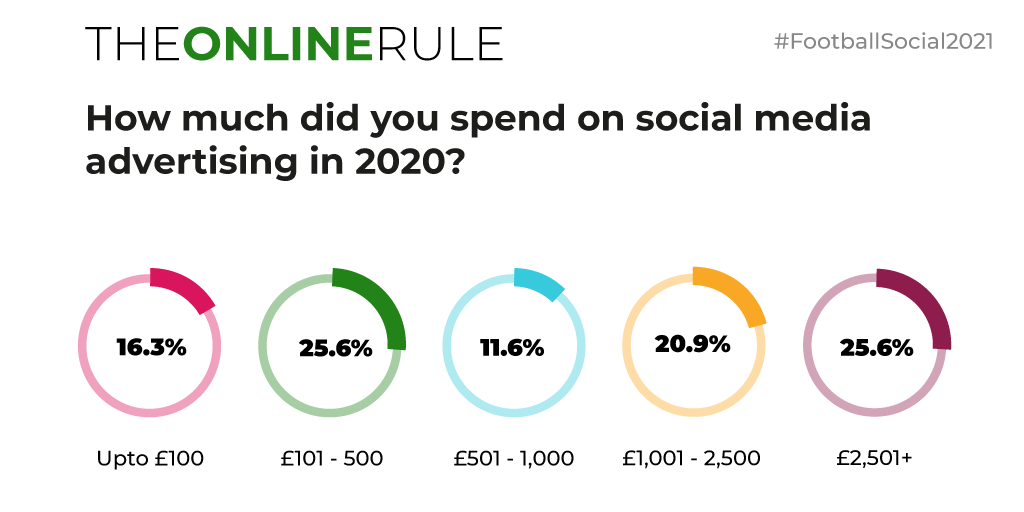 All respondents who said their club had invested in social media advertising were asked to complete two further questions.
Firstly, we were interested in finding out where this budget had been spent. Facebook picked up nearly 98% here, with Instagram in second place. Given ads are managed in the same platform for both channels it's a surprise this isn't a bit closer. Nearly 60% of teams spent more than £500 advertising last year, with a quarter of clubs totting up more than £2,500 in ad spend.
Now to intent: how many clubs expect to spend money on social media ads in the next 12 months? This was a higher figure than had spent last year, suggesting the scales are tipping towards paid ads in the near future.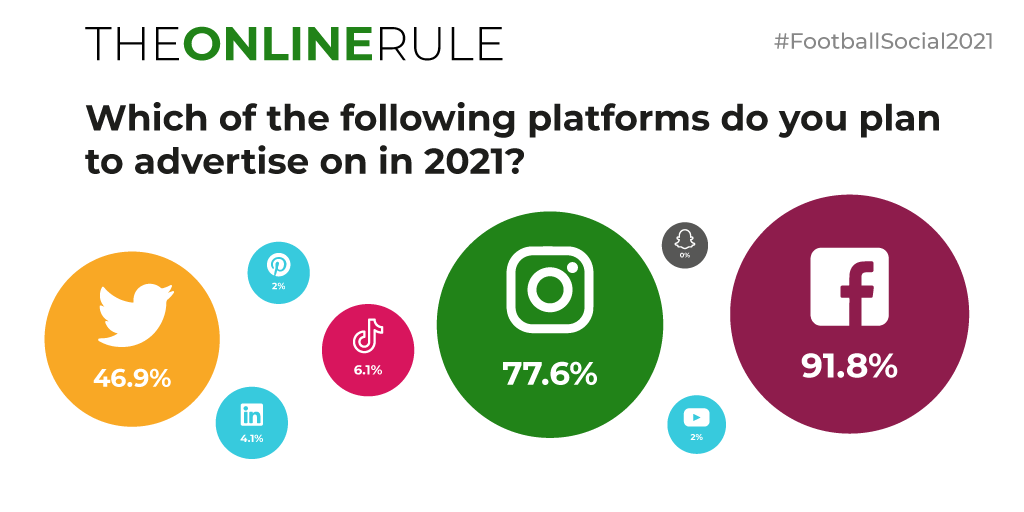 Again, respondents who said yes to the previous question were asked to state where they intended to spend their money.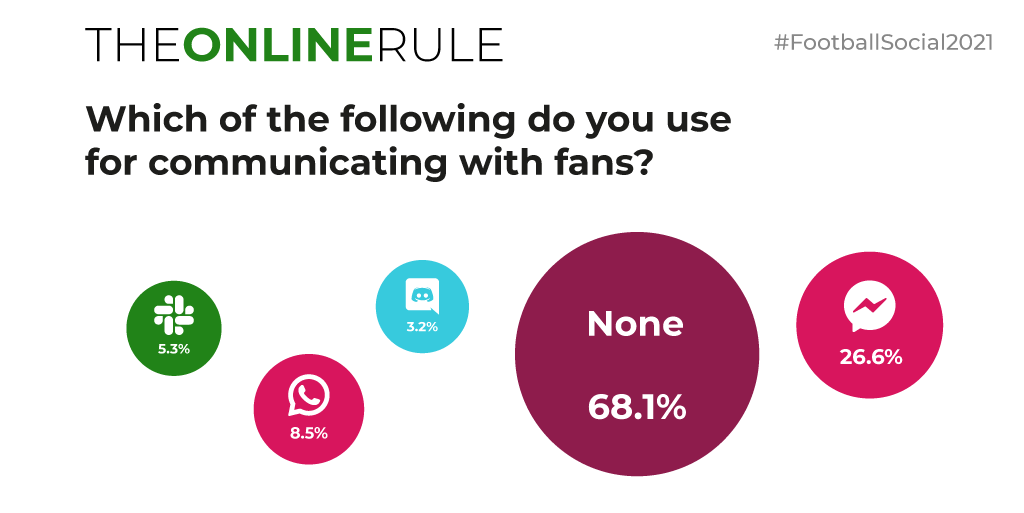 One-to-one or one-to-few engagement has been something I've championed for a long time, however there are very few clubs actually engaging with fans on this level. Facebook Messenger is the most popular channel for those that do, with 26.6% of respondents saying they use it for fan communication.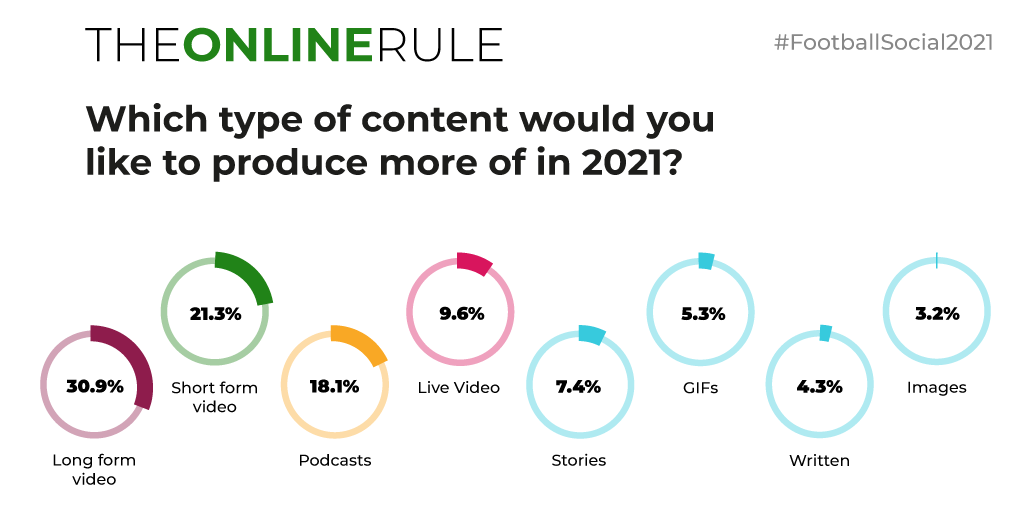 Video takes three of the four top spots here, but given the recent podcast boom there's no real surprise to see it up there.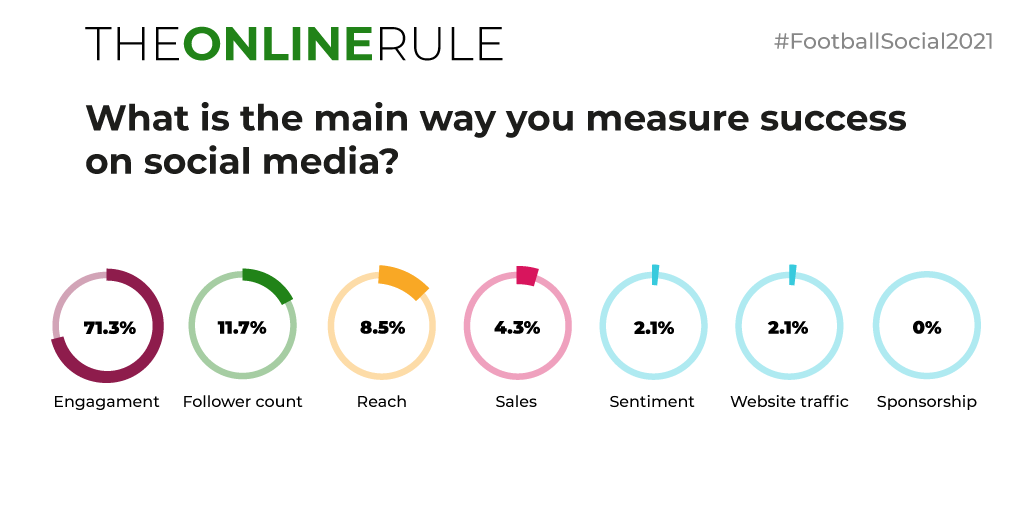 Engagement is by far and away the most common way clubs judge the success of their social channels. In this case, they'll be referring to how many people engage with their content rather than actual engagement with fans through social media. There's an increasing reliance on chasing replies, likes, and RTs rather than speaking to fans through social, for reasons far too numerous to detail here.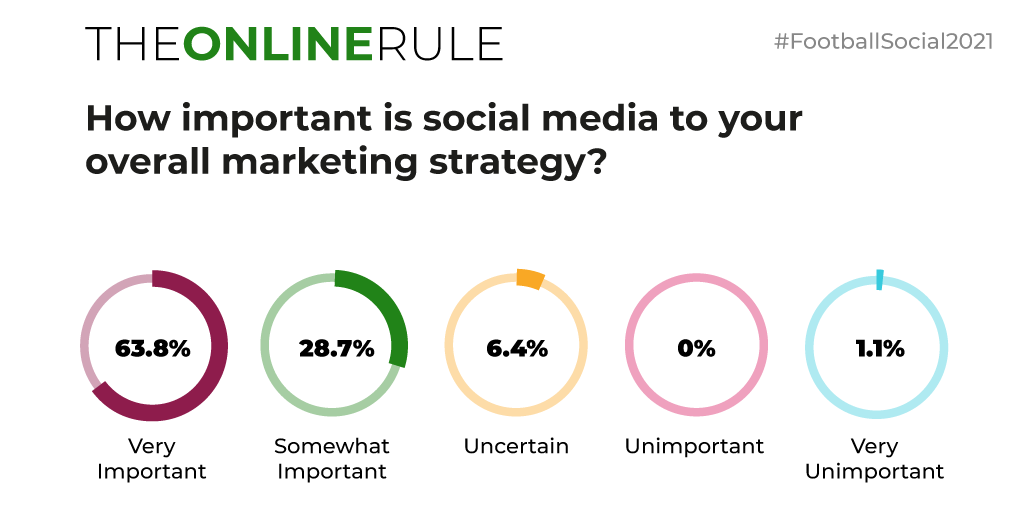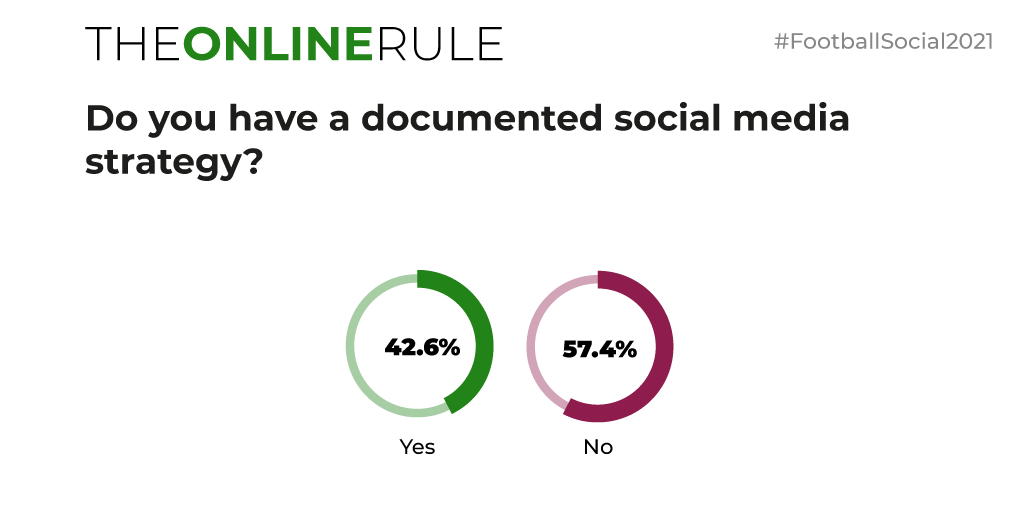 It's probably no real surprise to see social media listed as important by more than 90% of respondents in a survey for social media staff, but it's useful to ask in the context of question nine.
49 respondents said that social media was either somewhat or very important to their club's overall marketing strategy, yet don't have a documented social media strategy in place.
Conclusion
Thanks to everyone who took the time to contribute to this year's survey. If you'd like to take a look at the raw results, you can access the Google Sheet here.
If you come up with any additional findings that you think are of interest, please share them with us on Twitter. And if you use any of the data publicly, it would be appreciated if you could link back to this page and mention the site. I'm using the hashtag #FootballSocial2021 to collect thoughts on the data.