What to expect when you're expecting (a new social media network)
Instagram's new social media channel Threads launches this week. But what is it? And should your team be thinking of joining?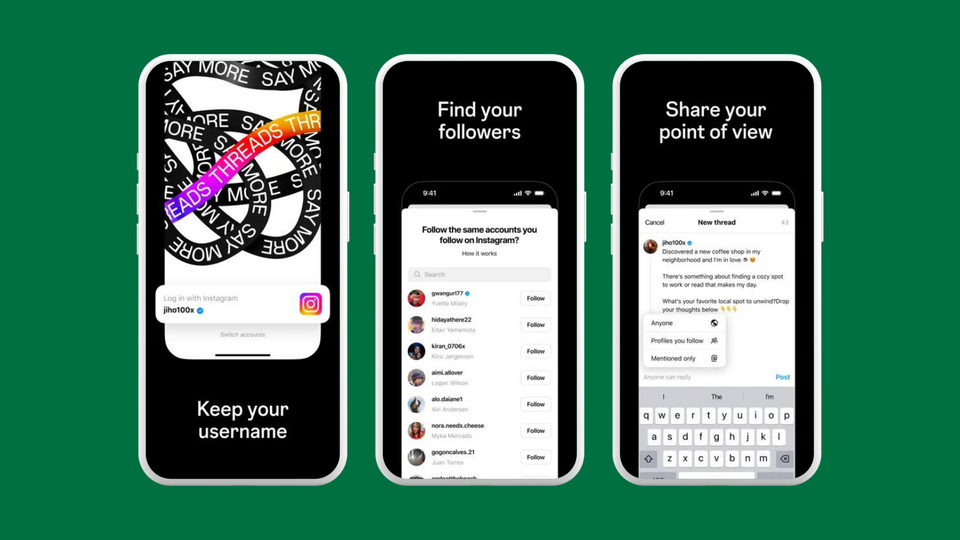 In case you missed it: there's a potentially big new social media platform about to launch. Threads, created by Facebook and Instagram owners Meta, will be launching onto app stores this coming Thursday (6 July). It'll launch at 3pm for people in the UK.
If you work in sports, how exactly do you prepare for a new social channel? Should you care? And what makes Threads stand out among the myriad other competitors that have popped up over 2023? Also: how did we even get here?
Let's try to answer as many of those as possible.
The state of play
Despite Twitter's popularity in sport - in the last State of Football Social Media report 100% of teams said they used it, only YouTube could match it - the writing has been on the wall for the platform for most of the past 12 months.
Since being taken over by Elon Musk, more than half of the site's workforce has been laid off or left. There have also been a raft of changes to how things work, particularly around verification and paying for access. Here's a full timeline of what's happened since the takeover on TechCrunch. It's not pretty.
A few plucky young upstarts have popped up in the meantime. These include Mastodon, Bluesky, Spill, and T2. Most users on these platforms are early adopters, and they've all had their own issues with scale and growth. All lack the features that made Twitter popular in the first place.
So why are Meta getting involved?
They've likely spotted the potential gap in the marketplace for a Twitter-like network. They've already got Facebook, Instagram, and WhatsApp, and if they can attract people disillusioned with Twitter then that's a lot of coverage. There's the potential for Meta to wind up a social media monopoly.
Figures for Q1 2023 suggest that there are 3.81 billion monthly active users on Meta networks. That's a lot of potential eyeballs.
What is Threads? How will it work?
So far, users have been incredibly limited. Even at June's The Online Rule Live, Chris Cairns from Meta gave very little away. It feels like things have moved quickly since Musk's Twitter takeover. I'd be very surprised if this was even on Meta's roadmap 12 months ago.
The app has been called Barcelona and P92 at various times. A screenshot from a presentation leaked in May which showed something extremely Twitter-esque (the original was this blurred).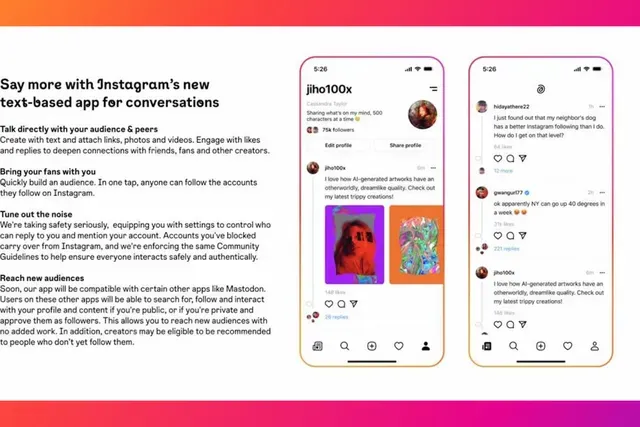 Based on information revealed in The Verge, key features are:
A text feed, with posts up to 500 characters.
Ability to attach links, photos, and videos.
Compatibility with apps like Mastodon (coming soon).
It's described as looking like "if you mixed Instagram and Twitter together". One of the big selling points to bring people over is the promise that you can sign in with your Instagram username and password, which will transfer your followers, handle, bio, and verification to the new app.
This alone is what gives the channel the potential to outpace its rivals almost immediately. New platforms like Bluesky, T2, and Spill have relied on slow burns to pick up users. They've periodically restricted sign-ups to ensure things keep working.
Meta has the infrastructure to handle billions of new accounts from day one. And on Thursday you can expect plenty of nudging and pop-ups on Instagram to prompt you to set up an account on Threads. It's also telling that it's being marketed as a new app "from Instagram", rather than Meta. It looks like a younger audience is being targeted.
How to prepare for a new social network
As one Football League social media team member I spoke to this week put it:
"Could do without this in pre-season"
But is there ever a good time for a social network to launch for sports teams? Probably not, as teams are managing more platforms than ever. Usually there's a bit of a build-up and teams join in dribs and drabs. It took about two years to get all of the Premier League teams on TikTok, for example. Teams rightly like to sit back and see if their audience use something - and what others do - before jumping in. There may not be that luxury with Threads.
Going back to The State of Football Social Media 2023, 99% of teams said they used Instagram. Around 87% said Instagram was either "somewhat important" or "very important" to their marketing. Given that Twitter scored 90% (this was early in the Musk days), the chance to combine these two is an opportunity teams will definitely be checking out.
Matt Cecil, Head of Media at Wycombe Wanderers, said the club will "absolutely be giving it a go". The club has its biggest following on Instagram, and the changes on Twitter means they're looking at how best to use social media to keep engaging with supporters.
He says the club "will be placing more emphasis on app notifications, email marketing and keeping an open mind on emerging social media platforms such as Threads".
Jim Lucas, Managing Partner at Ten Toes Media, thinks it's an easy jump given Threads' similarity to Twitter. And because a lot of clubs are "already part of the Meta 'ecosystem'".
Katy Blake, a social media consultant who has worked with Team USA and Birmingham 2022, recommends teams "try cross-posting there, and see what happens". Given that Threads is being touted as a Twitter killer, the same content on both channels may be a good way to start.
You may, however, want to think carefully about your first post so that you don't cringe too much when websites like this one look back at your first posts years later. I also did an update at the end of 2022 based on tweets that were available the handles being used at that time.
Jack Moore, Head of Social at Hatch Group, says it's better for people to join Threads as a user first. That lets you "experience it as your audience would and get an understanding of the platform dynamics". He warns that you need to "gauge if the channel is right for your brand" before jumping right in.
Claiming your club's username will be straightforward enough. Instagram have said you'll be able to keep the same one and easily follow everyone on your Threads account. That'll get you off to a good start.
I'll be diving into it myself on Thursday to see how it works and how the early teams are using it. You can find The Online Rule at @onlinerule on Instagram to see my early Threads.
You'll be able to download Threads on iOS and the Google Play Store on Thursday 6 July at 3pm BST.