Sharing links on X, World Mental Health Day, and tracking players during international breaks
Welcome to Between The Lines, a regular round-up of what you might have missed in the world of sports marketing, as well as a deeper look into some of the topics from social media. Got a story or tip to submit? Send it to
scott@theonlinerule.com
or via DM on social media.
In plain sight
The biggest social media news this week is X (formerly Twitter) removing headlines and descriptions from URLs shared on the platform.
It's now not obvious that images can be clicked to take you to a website, as they look no different to native images. This was foreshadowed in Between The Lines #1, when looking at data from Axios. Musk wants people spending their time on his social media platform, rather than clicking off it.
The fact that people used Twitter to find things that people have shared seems to have been ignored.
It's another part of the big push towards forcing people to post more organic content. Whether it winds up pushing people away from the platform is still TBC. For all the noise around people being sick of the changes and reconsidering their use, it's still a busy place.
As ever, some resourceful clubs have already found ways to get around these changes.
One approach, seen below from Man City, is to include a little emoji CTA to remind people they can tap the image.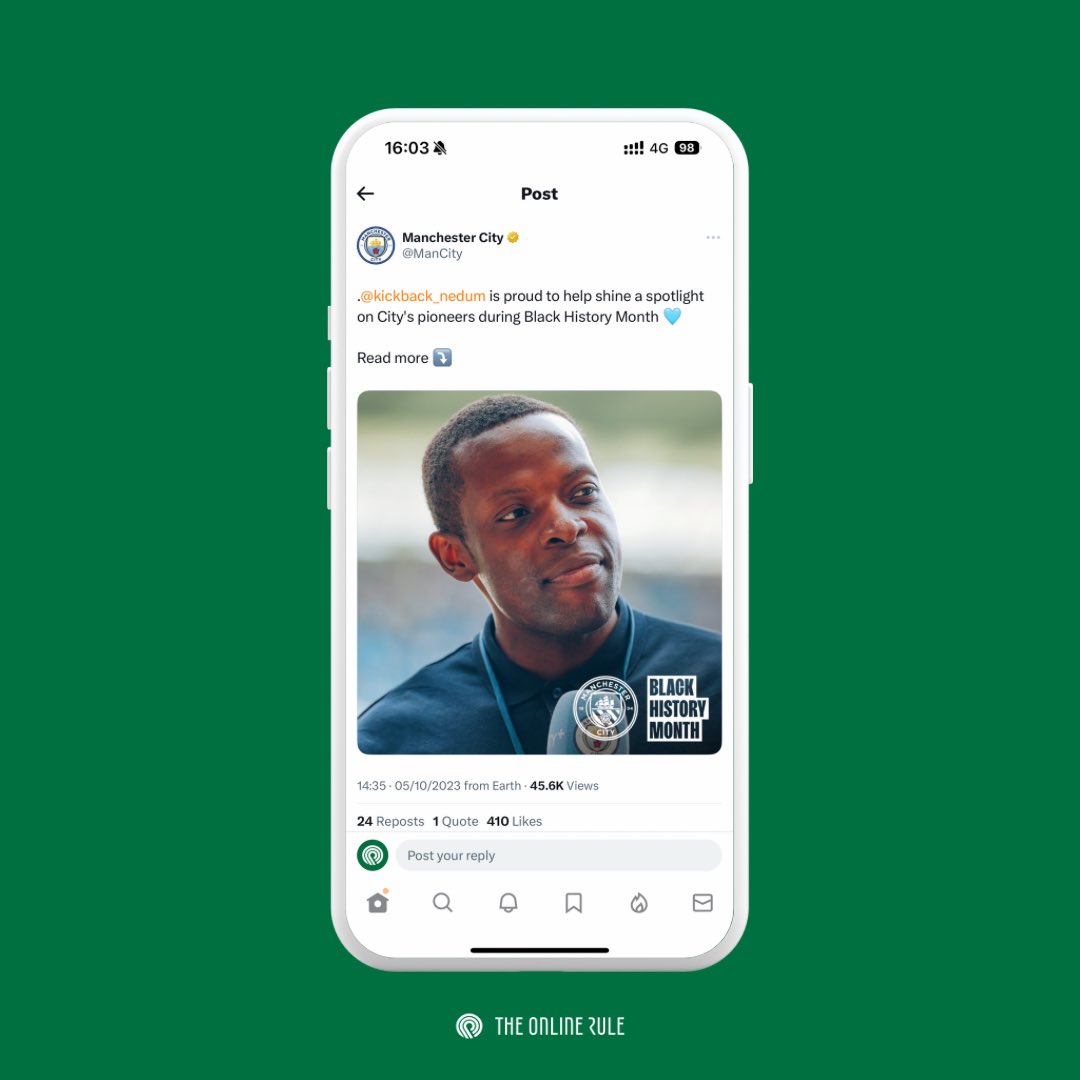 Emojis don't help for accessibility unfortunately, but it's a start.
The other, as highlighted by Nottingham Forest, is to include the link twice. Only the second one gets turned into a card, and the first one stays there so people can see that there's a URL.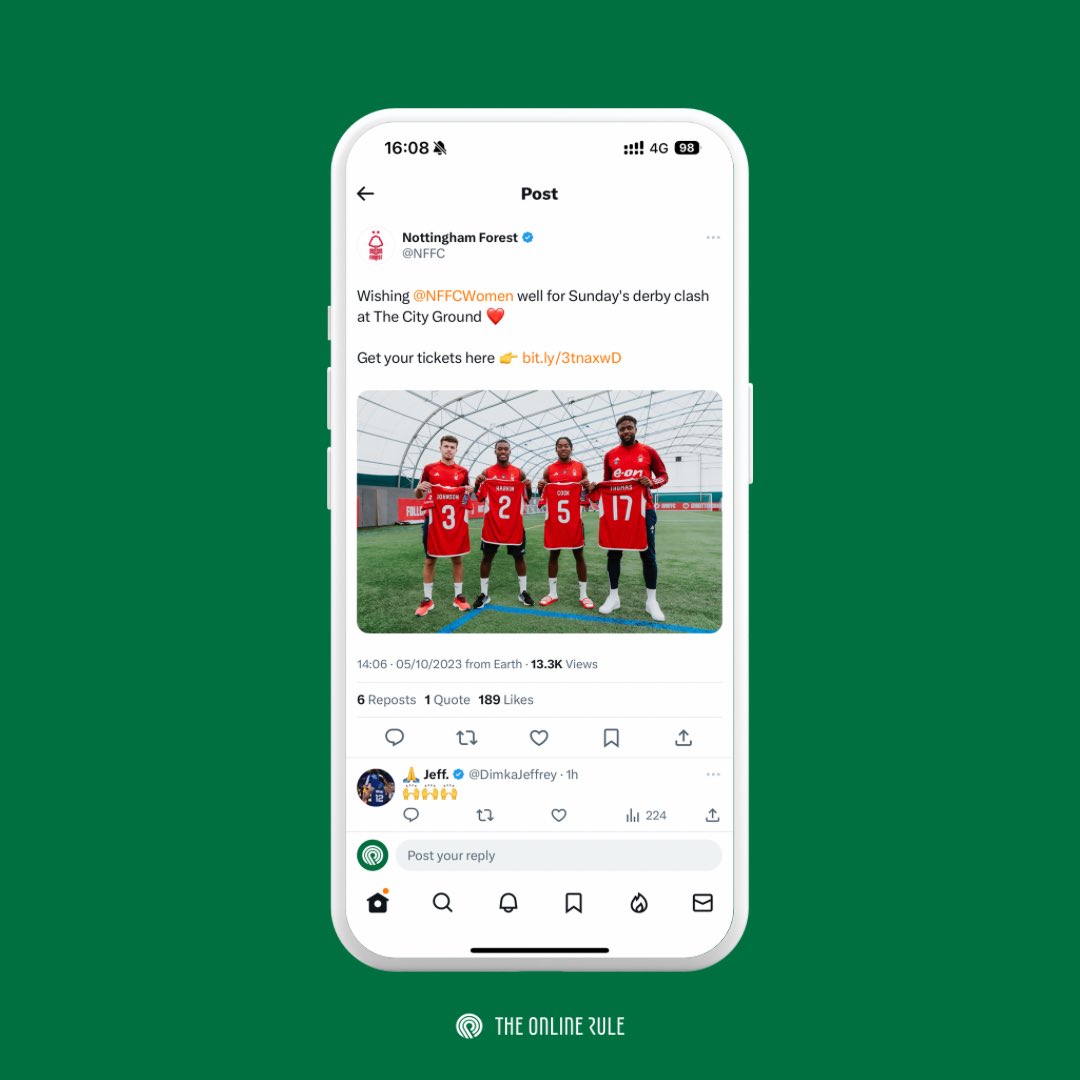 Finally, the Liverpool approach is to add a call to action on the image itself. In this example "tap to read" has been edited onto the graphic.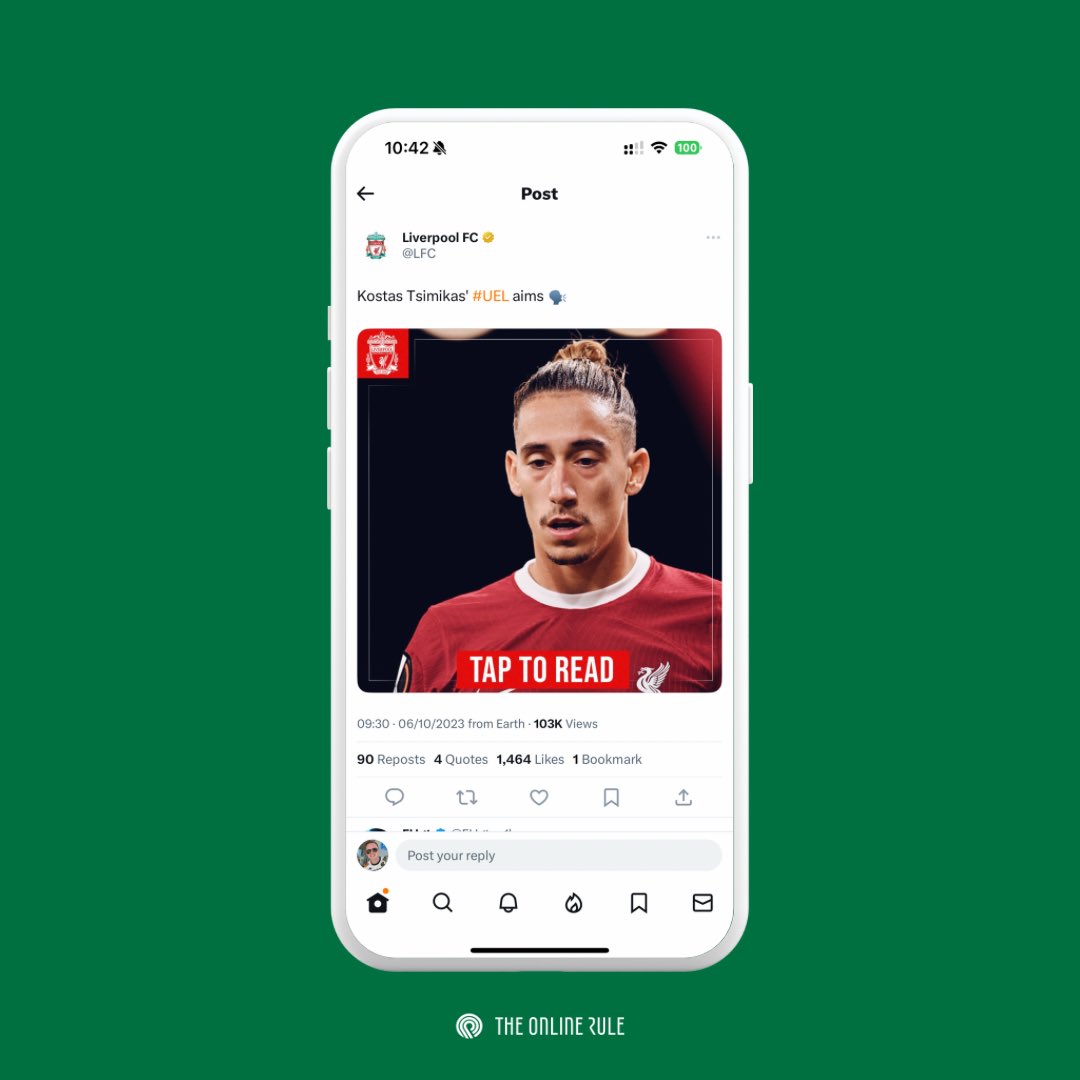 This still isn't accessibility compliant as X has no way of adding alt text to images used as links. But it's another way you can try and remind people to tap on your URLs.
Doing this could be a bit tricker as it involves creating a separate graphic for social media and applying it to your site using the og:image tag in the header. But it's worth the extra steps if you've got the time.
Oh, and on X you can also lock replies to only allow verified accounts. Apparently it's to do with bots (as everything is).
---
It's good to talk
You've probably already seen it, but Norwich City's video for World Mental Health Day on Tuesday 10th October has been incredibly effective. It's one of the most powerful examples of this type of content I've seen, and also conveys an important message: check in on those around you.
𝗔𝘁 𝘁𝗶𝗺𝗲𝘀, 𝗶𝘁 𝗰𝗮𝗻 𝗯𝗲 𝗼𝗯𝘃𝗶𝗼𝘂𝘀 𝘄𝗵𝗲𝗻 𝘀𝗼𝗺𝗲𝗼𝗻𝗲 𝗶𝘀 𝘀𝘁𝗿𝘂𝗴𝗴𝗹𝗶𝗻𝗴 𝘁𝗼 𝗰𝗼𝗽𝗲, 𝗯𝘂𝘁 𝘀𝗼𝗺𝗲𝘁𝗶𝗺𝗲𝘀 𝘁𝗵𝗲 𝘀𝗶𝗴𝗻𝘀 𝗮𝗿𝗲 𝗵𝗮𝗿𝗱𝗲𝗿 𝘁𝗼 𝘀𝗽𝗼𝘁.

Check in on those around you.#WorldMentalHealthDay | #YouAreNotAlone | @samaritans pic.twitter.com/ZC50AH5thl

— Norwich City FC (@NorwichCityFC) October 10, 2023
Emotion and storytelling are two of the most powerful marketing tools. This manages to combine both in a powerful way. It's stuck with me since I first saw it, and has been viewed more than 42m times on X alone.
A fantastic way of communicating such an important issue on an awareness day. Everyone at Norwich should be proud of the work they've done.
If you're going through a tough time, Samaritans are always there to listen. 24 hours a day, 365 days a year. Call free any time on 116 123.
---
Fan tokens criticised by UK MPs
Earlier today (11 October) UK MPs published a report criticising cryptocurrency products linked to football. Fan tokens were singled out for particular criticism.
As reported in the Athletic (paywall), the group say these are "putting supports at risk of financial harm and potentially damaging the reputations of clubs".
Of the providers, Socios and Sorare were mentioned by name. The report says that NFTs have "proven to be inherently risky for fans who invest in them" despite having "little to no financial risk for clubs".
The conclusion is that the group recommends that "any measurement of fan engagement in sports, including in the forthcoming regulation of football, should explicitly exclude the use of fan tokens".
It'll be interesting to see what happens next with the clubs who still use these services, and whether the threat of regulation makes them move away from tokens in future.
The full report is available on Parliament.uk.
---
Globe trotting
It's another international break, and players are heading away to spend time with their national teams. A lot of clubs use the time to tell fans who's playing where and when - here are some examples of how that information has been shared this time round.
First up, Manchester United. They've posted a thread on X showing with a post for each player. It's a great way to use the native tools to share a lot of information (which X is prioritising at the moment), and they've also tagged players in the relevant posts. That's a good touch that can help bring them additional followers and push their own personal profiles.
The latest international fixtures start on Wednesday for our Reds 🌍✔️

Here's a full list of matches to keep an eye on over the next week ⬇️#MUFC pic.twitter.com/5qhDkWqRMy

— Manchester United (@ManUtd) October 11, 2023
Coventry's approach is shared by quite a few clubs. They've published a piece on their website - linked through from social media - with a list of players who are away along with their fixture details.
Palace are one of the clubs that posts updates from the national teams featuring their players. Again it's a good way of keeping fans involved in what the players are up to over the break.
---
One to keep an eye on
Blackburn Rovers are having their annual Members Day at the stadium when they play Cardiff City on 21st October.
One of the perks for Junior Rovers members is a "mini-me takeover". The club are looking for junior members to be commentators, announcers, kit persons, and flag bearers.
It's a great initiative, and hopefully there'll be some good content shared from the day on the website and social media. I'll revisit this next time round to see what content they promoted from the day.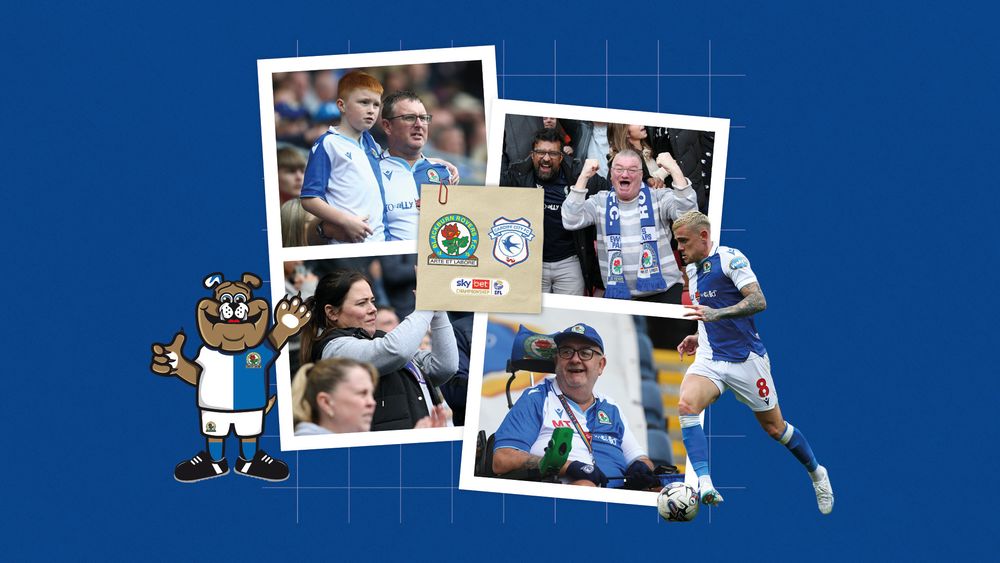 ---