Marketing open goals, channel-specific content, and the marketing mix
How to make the most of your opportunities in marketing, the benefits of channel-specific content, and how to influence your club's wider marketing.
Welcome to Between The Lines, a regular round-up of what you might have missed in the world of sports marketing, as well as a deeper look into some of the topics from social media. Got a story or tip to submit? Send it to
scott@theonlinerule.com
or via DM on social media.
Making the most of opportunities (or not)
A couple of issues ago I highlighted Blackburn Rovers' forthcoming Members Day (the last item, titled "One to keep an eye on"). It's a great initiative, and I was looking forward to having a dive into the content the club produced around it.
Unfortunately, unless you're on X (formerly Twitter) you'll struggle to find any mention of it at all.
Firstly, the original news piece has been removed and takes you to a nicely designed 404 page.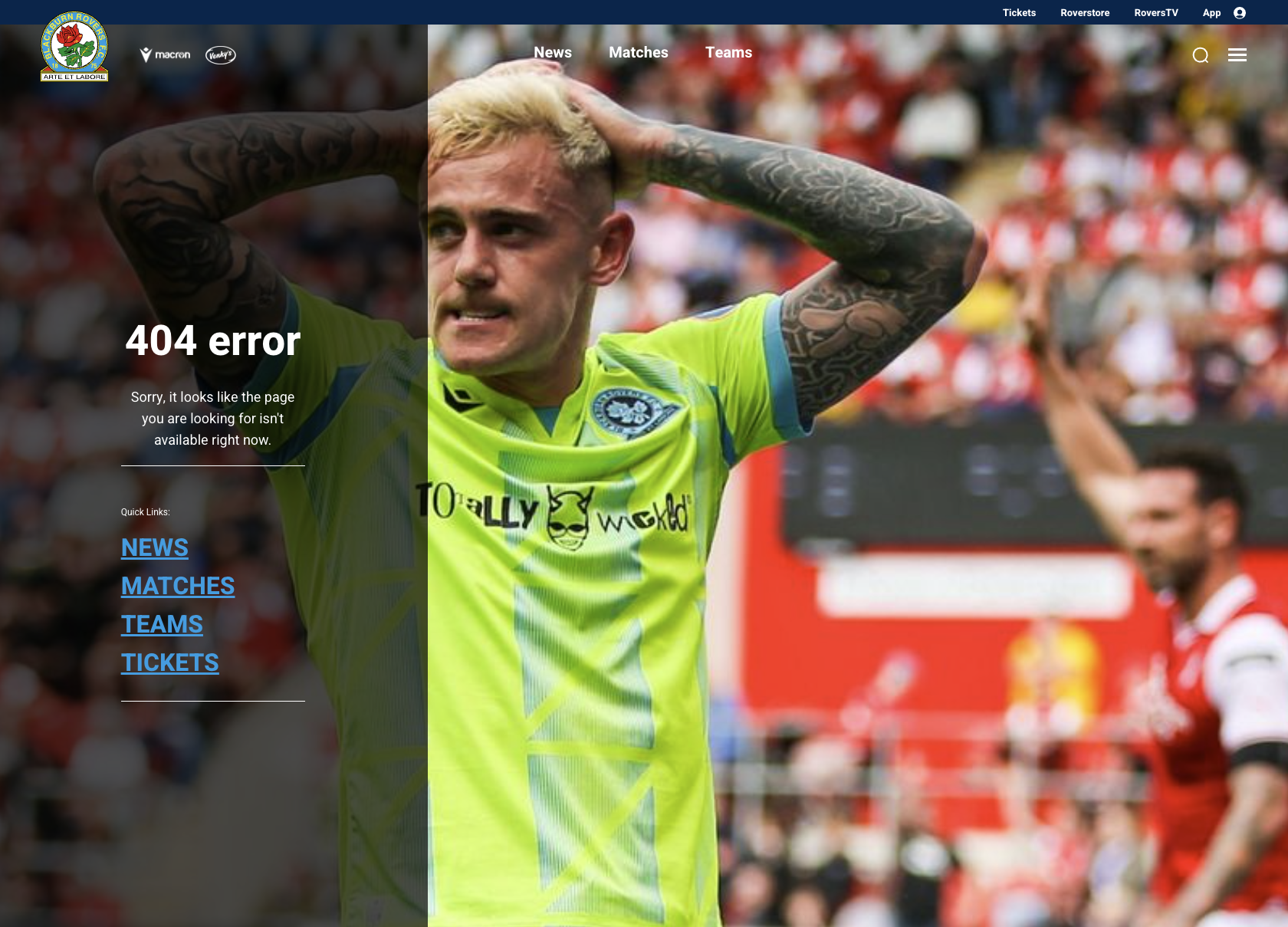 There is a news story about Members Day being "a huge success" on the site. The old piece could have been redirected here - going to a 404 isn't a good look.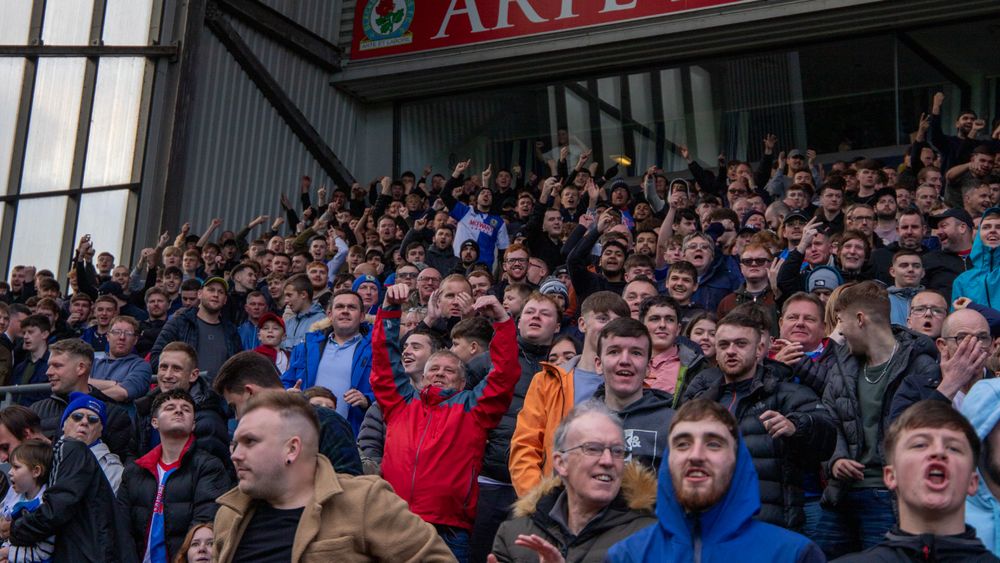 The sole coverage on the site amounts to around 300 words saying what took place, published a few days after the game itself, together with an image the club
There's nothing on Instagram.
No TikToks.
No YouTube videos.
The only coverage of the entire day to celebrate members amounted to a Facebook post mentioning the mascots (but not referencing Members Day itself), and a short thread on X.
As part of Members Day this afternoon, Junior Rovers members have been taking part in a 'mini-me' takeover of various matchday roles. 🧵#ROVvCAR | #Rovers 🔵⚪️ pic.twitter.com/tzLcjPBzGF

— Blackburn Rovers (@Rovers) October 21, 2023
I never like being too critical of clubs - there's a lot going on, and marketing staff have ridiculously busy jobs at the best of times - but this seems like a huge missed opportunity to celebrate fans.
Junior Rovers members got involved in matchday announcements and commentary. These are both perfect opportunities for short videos showing them carrying out their duties. Or using their commentary over highlight footage. There was the chance to generate some good viral moments capitalising on the surprise value of having children commentating on action or announcing team news over the tannoy system.
This is the marketing equivalent of missing an open goal.
---
Channel-specific approaches
Eastbourne Borough are a team in East Sussex that play in the Vanarama National League South.
They have just over 10,000 followers on X. Posts on their account tell you about upcoming fixtures, showcase photos from matches, and publish highlights.
🛍️ Please note the club shop will be open from 1pm today! So come down and get your Borough merch ahead of the weekend!#EBFC pic.twitter.com/al2zuJPZIM

— Eastbourne Borough FC (@ebfc_official) October 25, 2023
Why are they interesting?
Because if you go to their Instagram channel, things suddenly get a lot more interesting.
There are videos of the players answering trivia questions in a hot tub.
Taking part in football challenges.
And talking about - and re-enacting - their favourite memes.
They also cross-post this content to TikTok, where one of their challenges has had more than 300,000 views so far.
All of the content looks like it's been made by football content creators (and I say that in a positive way). It's a refreshing way to see a team approach Instagram, and entirely in keeping with the platform itself.
Instagram and TikTok typically lean towards younger users, so rather than stick with very basic and dry content, they're looking to bring in this audience by being fun and entertaining.
Most clubs - particularly at lower levels - see social media content as a way of telling their fans what's going on. Eastbourne are looking at it as a way of getting more fans. They showcase the players' personalities by getting them involved in challenges and games, which is a much better way of doing things than a standard interview.
A lot of businesses take a similar approach with their marketing. They mix and adapt content depending on the channel it's going on. You've got different audiences in different places, so think about how you can produce things for those people and platforms than sharing the same thing everywhere.
---
Marketing isn't just about promotion
Something a bit different now...
There's a belief that being 'good at marketing' involves some work with email, maybe some social media promotion, and knowing how to publish to a website.
That's barely scratching the surface.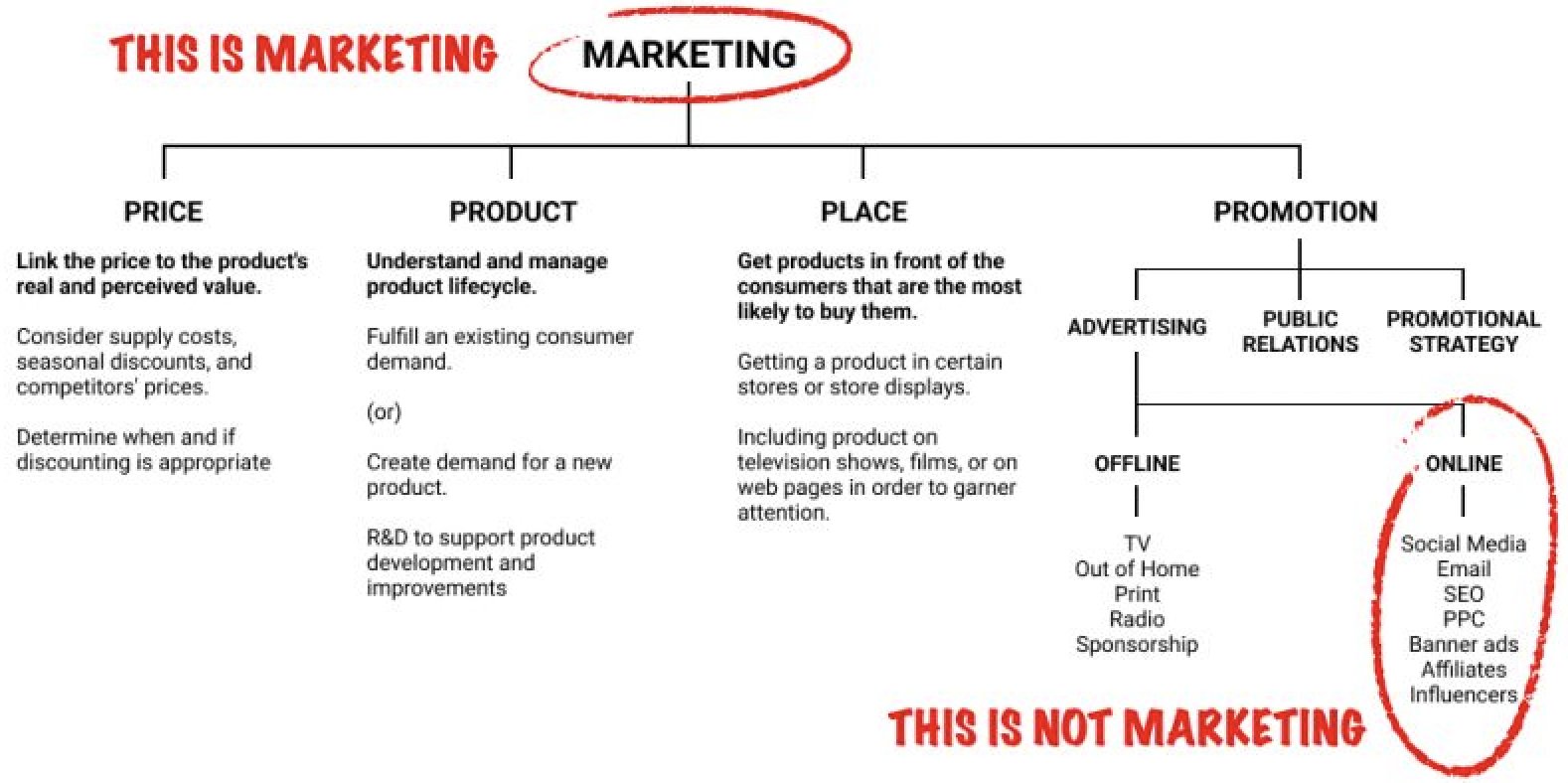 In the graphic above you can see four main headings: price, product, place, and promotion. Each one works together to persuade, or otherwise, people to buy from you or use your services.
You've probably come across @FootyScran on social media before. It's an account which takes peoples' submissions of food served at stadia around the world and tells you how much it cost along with a photo. Simple and harmless. Or so you'd think.
I'm aware of conversations that have happened at at least three separate clubs in the EFL where they've been mortified that they've featured on the account. Directors have seen the posts go viral, realise it's their club, and immediately wanted to speak to managers about making changes. And good on them. I know of a lot of clubs that just aren't bothered.
Plenty of teams sleep on their 'product'. The food and drink available at the ground is very much a part of the matchday experience, which is the product you're selling to fans. Improve this, and offer it at a reasonable price, and it'll contribute towards people wanting to spend time there before and after games.
---
Who are they?
Kudos to Accrington Stanley for having the best social media bio in the EFL.

---
El Clásico soundtrack
As part of their ongoing partnership with Spotify, Barcelona have been making plenty of headlines by regularly switching up the sponsor on the front of their shirt. This time it's to promote the Rolling Stones' new album.
An overlooked part of these activations is their matchday playlist. The one for this weekend's El Clásico is... very good.
---
Broadcast channels are expanding
Meta is pushing broadcast channels to Facebook and Messenger, after their initial launch on Instagram and WhatsApp.
Instagram ones seem pretty popular among teams. Man City, Man United, Barcelona, Sporting, West Ham, Juventus, and Fulham are among the most prolific teams on there. These are posting fairly regularly, with others keeping their updates to only a few times a week or around matches.
Over on WhatsApp, Channels are rolling out a bit wider now. There's even one for The Online Rule now, which I'll be trying to remember to update regularly when new newsletters are out.
Currently the process for posting to your own Channel isn't easy. The updates tab displays all the Channels you subscribe to in chronological order, so it's very easy for your own to fall down the list and you've got to have a play around to find it. Hopefully this improves.
---
Quick updates
Some short updates on social media that you might have missed.
You can now start video and voice calls in X. You'll get a notification in the app when this is available to you. By default it lets anyone you follow start a call. To turn it off, head to your settings, privacy and security, then direct messages. You'll see the options there. Thank me later.
TikTok is starting to experiment with 15 minute uploads.
Meta is starting to show Threads content on Facebook and Instagram. Could this be the time to start thinking about increasing your presence there?
You might be able to add polls into Instagram comments soon. Some users are seeing this as an option.