"Mobile-first, personalisation, and digital broadcasting" - lessons from Southampton's new site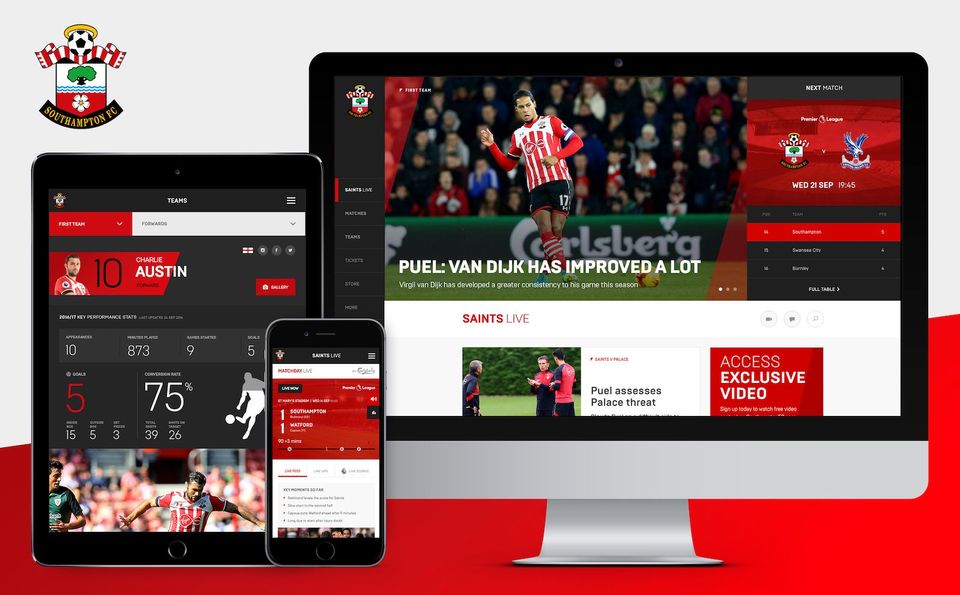 Southampton are no strangers when it comes to innovation. From being the first Premier League club on Snapchat, to introducing score updates via Twitter DM, the south coast side are regularly held up as a shining light in sports marketing.
Naturally, it wasn't going to be long before the club's website got involved.
The team at Southampton have been working with Delete, a London-based digital agency that specialises in user experience, to revitalise the existing site and give them a platform that is as ambitious as the team itself.
When Delete first got involved Southampton's website was still controlled by Football League Interactive (FLi, now known as EFL Digital). This meant that the Saints team were slightly restricted in what they could do with the platform.
"Southampton are a progressive and ambitious club," says Tom Dougherty, Delete's UX Director, "and with the first team establishing themselves as a top half Premier League club they wanted a new digital platform to match their ambitions.
"The platform [FLi] had prohibited growth in a number of key areas, leading to internal frustrations and a board-level mandate to overhaul the club's digital strategy, digital presence, and technology."
The team at Delete were tasked with creating "the best digital fan experience in football". This meant, in Tom's words, "a fully owned, multi-channel digital platform with enhanced fan engagement, opportunities to grow a rich customer database and increase revenues from merchandise and ticketing and, most importantly, facilitate and support fan base growth".
Lessons learnt
"The main learning was that users primarily engage with the website through mobile", explains Tom. Like most website projects over the past few years this meant that the team needed to come up with an approach that was not only mobile-first, but "mobile-focused" too.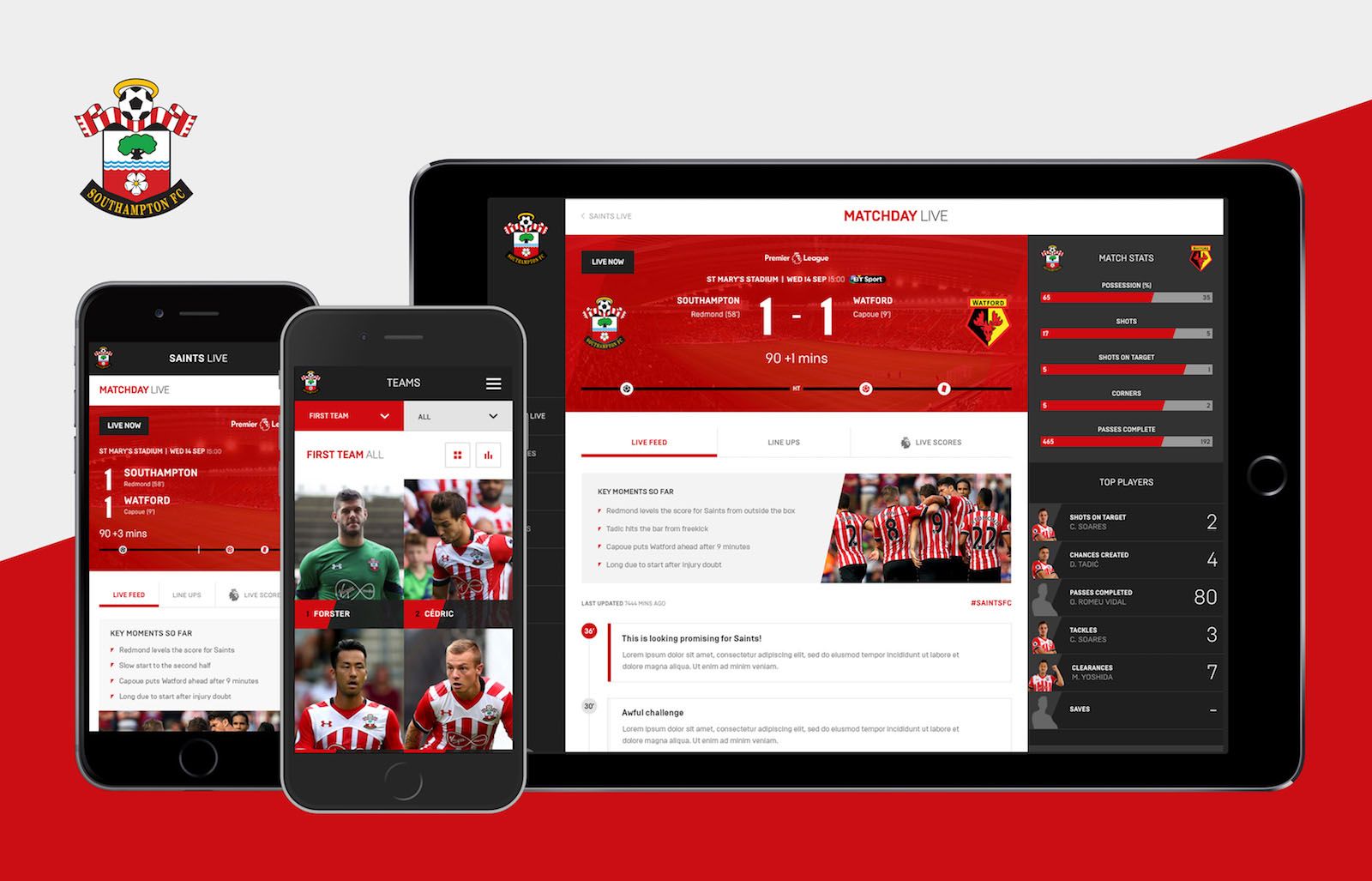 More interestingly was what their audience research and data analysing told them about the ways in which Southampton's fans were engaging with the existing site. Tom describes their habits as "content grazing", meaning that supporters were habitually visiting the BBC and Sky Sports websites for updates and news: "this key insight highlighted the need to improve the Saints match day live experience drastically".
A paywall for video content was ruled out quickly – being described as "out of date and a huge turn-off for fans" – with the team instead settling on a 'soft' paywall that simply requires a free account to access. Tom likens Delete's approach to a "digital broadcaster", with frequent, high-quality content prioritised.
Putting users first
As with any good redesign project, improving user experience was one of the key improvements Southampton wanted to make. Tom and Delete worked with the club to develop a new content strategy and website architecture to support the "weekly cycle" – namely the pre-match build-up, the match itself, and post-match.
"The entire experience needed to be focused on the most important factor – the football matches and the cycle of the team," explains Tom, "the match represents the central pillar for all content publishing, site navigation and content aggregation".
The team are proud of providing fans with an "unparalleled experience of their football club, with live updates day in day out, exclusive content access live video, and audio streaming across all devices". The work is the embodiment of a fan-first philosophy, which everyone involved hope will build a closer relationship with the club and its fans.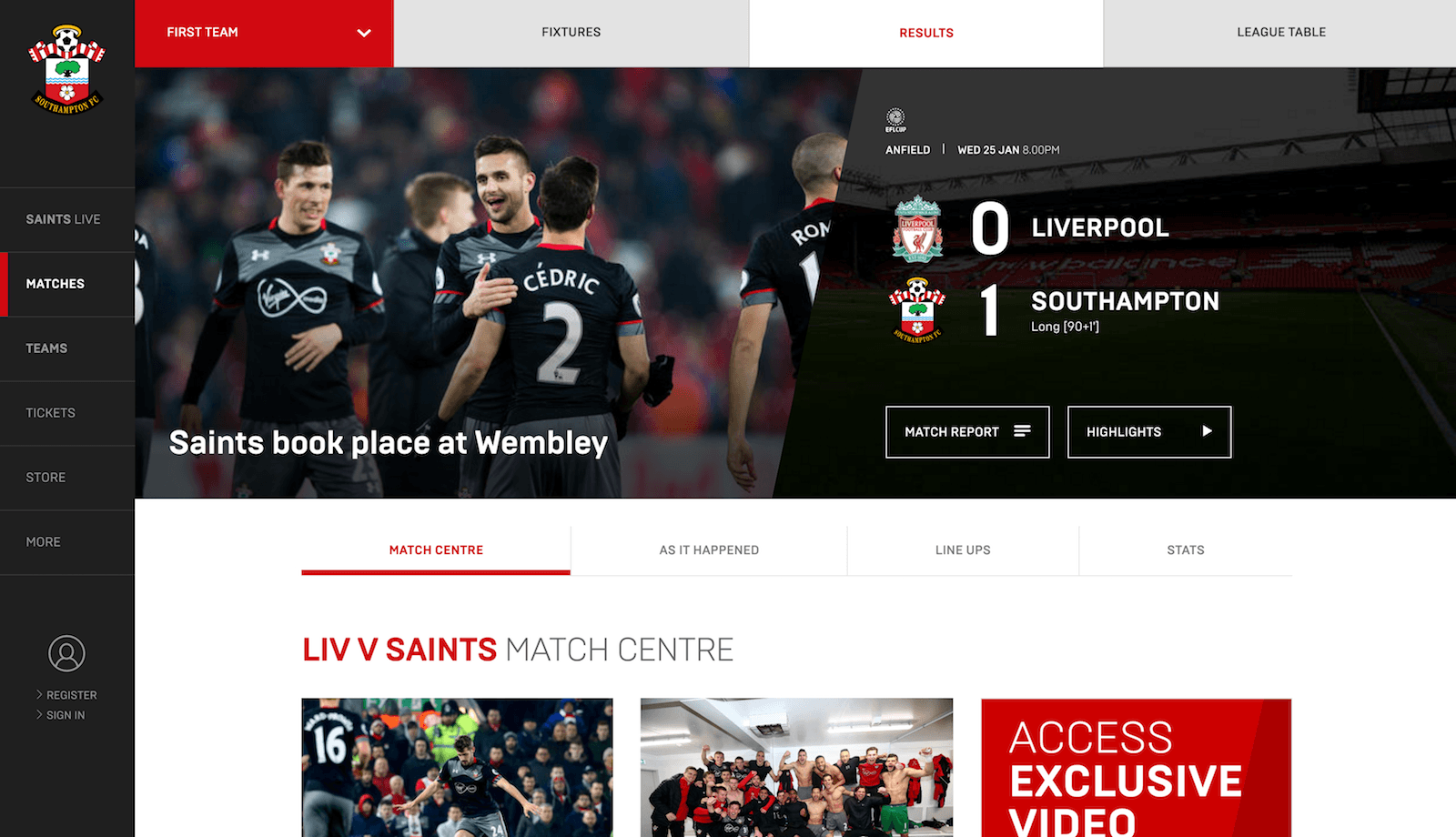 One of the key UX improvements on the new website was the development of the website as a single-page application (SPA). This means that elements like the navigation don't need to be reloaded when a user clicks a link, so content can be loaded quicker than ever before.
Getting personal
Delete identified various different segments of fans as part of their work on the website, and set about having a clear strategy to engage with each of them. The 'soft' paywall mentioned before is evidence of this in action – it allows the club to build up a digital profile of each fan, allowing the site to serve up content and promotions that are relevant to each individual.
As Tom explains: "The growth of global interest in the Premier League has meant an increasing growth of fans to cater for varying needs for football clubs." Serving personalised content is core to increasing engagement on a website, and fans want to be able to easily access the news that's important to them when they visit a website.
And the information has already been put to good use: "For the most recent Season Ticket renewal campaign we used personalisation to deliver targeted messaging and promotions on-site that reflected the varying segments of season tickets holders from die-hard followers to family members." As we explored last month this targeted approach is one which is relatively new to football, but could pay dividends.
How are things going?
"One of the main objectives of the new site was to give the official club website a true purpose again for Saints fans," says Tom, "That meant completely reassessing what fans really want from a club website and defining a new product and content strategy.
"The new site had to become the ultimate digital experience for the club's fans through the delivery of high quality and frequent content. The aim was to get the fans back on the website rather than alternative channels that are competing for their attention."
The results so far have been encouraging: "Since its launch the site has attracted a higher number of fans with increased engagement per session." The team have looked at increasing page views, video views, banner impressions, mobile engagement, and time on site.
The below table below shows the increase in performance from October 2015 to May 2016, and from October 2016 to May 2017.
| Metric | YOY increase |
| --- | --- |
| Website user registrations | 716% |
| Sessions | 27% |
| Repeat visits | 37% |
| Avg. page views per visit | 20% |
| Match traffic | 78% |
What's next?
The digital redevelopment work isn't stopping here. Next on the list is a redesigned retail store and ticketing platform, which Tom says has "the goal of connecting all three systems with a single customer ID". They're also not resting on their laurels when it comes to the main website, working behind the scenes to improve the main website experience with new features and functionality. By way of a teaser, Tom says this includes "more fan engagement tools to allow fans to continue to contribute and interact with players and the website".
Tom's takeaways
Finally, we asked Tom for the changes he thinks teams should make to their online platforms to improve interaction:
Ensure they are primarily designed for mobile.
Adopt a broadcast philosophy ensuring multimedia content is frequently published.
Take advantage and maximise the exclusive access to content they have.
Reflect modern digital content consumption patterns.
Deliver a single customer account across all owned platforms.
There are a few screenshots throughout this piece to show you how the new website looks, but if you'd like to see for yourself head to Southamptonfc.com.